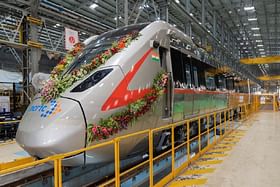 With the aim of reducing travel time between cities, Indian Railways is planning to construct an elevated corridor between Delhi Cantonment and Jaipur to run semi-high speed that run at 200-220 kilometre per hour (kmph).
The proposal earlier was to build the elevated stretch up to Rewari in Haryana and now the national transporter is looking at whether this can be extended up to Jaipur.
Vande Bharat trains will be upgraded to run at 220 kmph in the next couple of years, which would be ideal for faster inter-city rail connectivity.
Northern Railway has already drawn up a detailed plan, which would soon be placed before the Railway Board for approval, sources said.
"It was found feasible to have an elevated track between Delhi and Rewari as there is adequate land available. Since we run regular suburban local trains between Delhi and Rewari, this impacts running of goods trains and other long distance passenger trains. Construction of elevated track will help us in segregation of trains that can take the elevated stretch," said an official.
This will reduce congestion on the existing corridor and reduce the travel time between Delhi and Jaipur.
A detailed project report (DPR) is being prepared with estimated cost and land availability for the semi-high speed project.
Corroborating the Railways' plan, union minister and Gurgaon MP Rao Inderjit Singh said because of the new plan, the proposed upgradation of Gurgaon railway station is being redesigned.
He said though the original plan was to complete the tendering process by March, but because of the change in plan, work on redesigning the station has started.