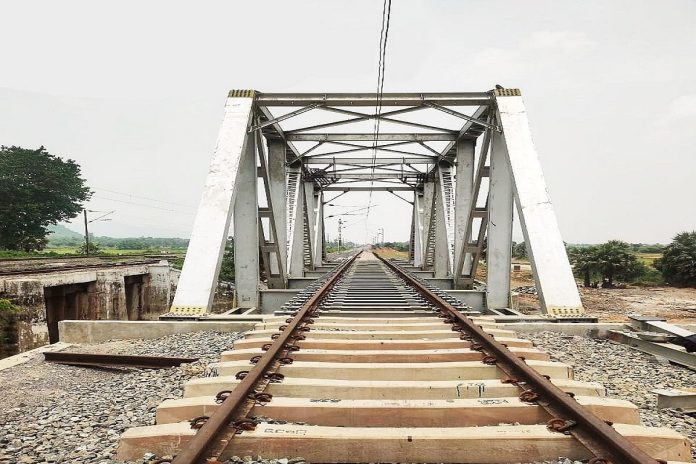 Revitalising rail infrastructure in Odisha, work on the 92-km-long third line, between Bhadrak and Nergundi, has seen progress with completion of a section of the crucial rail link.
The third line project is crucial for the region as it will enhance transportation accessibility and propel trade and commerce opportunities for the locals.
The Commissioner of Railway Safety (CRS) had recently inspected the third line work and the 25 km long section, including Haridaspur and Byree railway stations, and has been commissioned after CRS clearance.
According to East Coast Railway, out of 92 km, 25.3 km has been completed and commissioned.
The third-line work between Haridaspur and Byree Railway Stations (16.80 km) of the ongoing critical Bhadrak-Nergundi third line project has been commissioned.
During the inspection, all safety aspects were thoroughly examined, and a speed trial was also conducted to measure the feasibility of train traffic.
According to the East Coast Zone, the construction work for the Bhadrak-Nergundi third-line project on the Howrah-Chennai main line, between Bhadrak and Cuttack railway stations under Khurda road division, is proceeding at full swing.
More than 60 per cent of the construction works for this project have been completed.
This has been possible due to the consistent review of project works by Union Railway Minister Ashwini Vaishnaw.
Vaishnaw is prioritising the development of railway infrastructure in the region, along with various project works going on in Odisha, and is also monitoring the developmental works regularly.
Bhadrak-Nergundi third line work will boost the region's economy and provide hassle-free train operations on the Howrah-Chennai main line.
East Coast general manager Manoj Sharma adviced officials to focus on the speedy completion of various projects going on in the jurisdiction.
Sharma also adviced officials to coordinate with stakeholders, including state government officials, for the early completion of the projects.