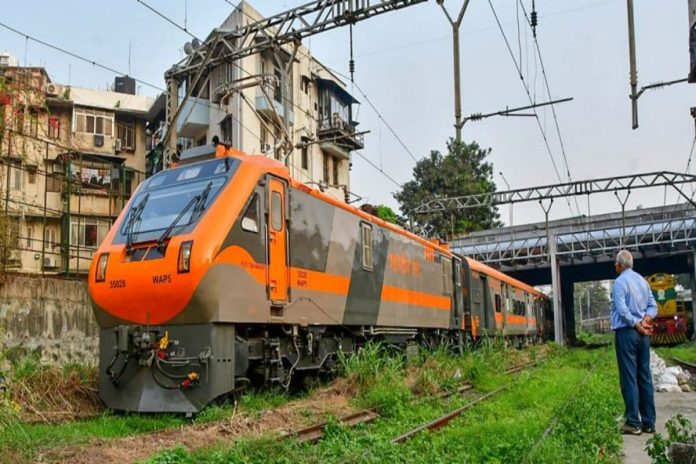 The newly introduced Vande Sadharan Push-Pull train arrived at Mumbai's Wadi Bunder yard on Sunday (29 October).
According to Times of India report, the train is scheduled to undergo trials in the upcoming week.
This 22-coach LHB non-AC 3-tier sleeper train aims to offer passengers affordable fares, with a capacity to accommodate up to 1,800 travelers. It is hauled by two WAP5 locomotives, each featuring sleek, streamlined noses, enabling it to operate at speeds of up to 130 kmph.
The trials are anticipated to take place in the Mumbai-Nashik corridor, with a particular focus on the challenging hilly terrain, as outlined in the report.
One of the potential routes for this train is likely to be the Mumbai-Delhi route.
On 12 October Railway Board Secretary Milind Deouskar announced the Indian Railways' intentions to introduce Vande Bharat Sleeper Coach and Vande Bharat Metros, as reported by PTI.
During an address at a CII rail conference, he mentioned, "We are planning Vande Bharat Sleepers and Vande Bharat Metro trains to meet the throughput, speed, and convenience expectations."
Vande Sadharan train will be hauled through push-pull method using two locos. The push-pull system increases the acceleration rate in the train running system.
The coaches will be equipped with modern facilities like bio vacuum toilets, passenger information system and charging points at every seat. There will be CCTV cameras in every coach to strengthen the security of passengers.
The train will have automatic door system like in Vande Bharat Express.
This is for the first time that CCTV camera, bio-vacuum toilets and automatic doors are being provided in non-AC train.
The Railways has faced criticism from some quarters for launching Vande Bharat trains which is perceived as an elite service with higher fare.
However, Vande Sadharan service is expected to be on normal fare.
The Railways is also manufacturing Vande Metro for local travel at ICF.