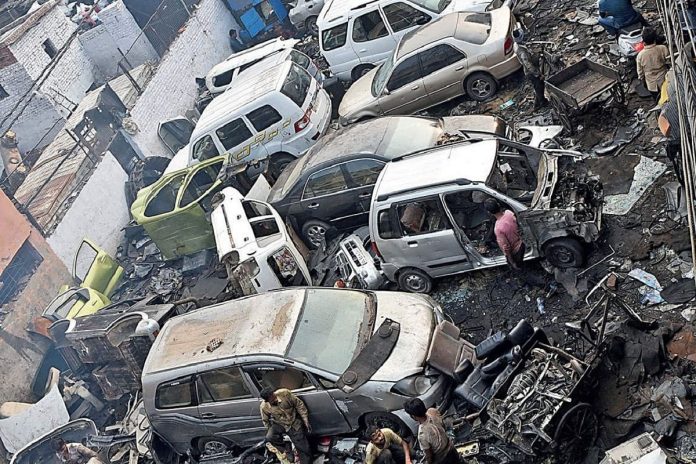 Describing it as a win-win situation for all, Union Road Transport and Highways Minister Nitin Gadkari has called upon all stakeholders to come forward and support the Vehicle Scrapping policy.
The Ministry of Road Transport and Highways (MoRTH) launched the Voluntary Vehicle-Fleet Modernization Program (Vehicle Scrapping Policy) in 2021.
This Policy is aimed at creating an ecosystem for phasing out old, unsafe, polluting vehicles and replacing them with newer, safer, and fuel-efficient vehicles.
Addressing a Stakeholder Consultation in New Delhi on Monday, he said that Automotive Original Equipment Manufacturers (OEM) should work towards increasing their production capacity and support the nation to become the largest automotive industry in the world.
The Union Minister said the ministry has undertaken multiple initiatives to build resilient demand for vehicles such as building a world-class network of highways, electrification of buses, and mandatory automated fitness testing of vehicles.
Gadkari emphasized that since the automotive industry is the biggest beneficiary of this policy, they must come forward and support on 3 main pillars of more investment in setting up Automated Testing Stations (ATSs) and Registered Vehicle Scrapping Facilities (RVSFs), more awareness amongst citizens about the policy benefits through their dealer network and a finalized discount percentage against certificate of deposit obtained by citizens on scrapping vehicles.
Road and Highways Secretary Anurag Jain encouraged the auto industry to set up scrap centers and automated testing stations across the country.
It was emphasized that the Vehicle Scrapping Policy is expected to increase auto sales by about 8% and contribute about 0.5% to the country's GDP and hence, OEMs must extend unconstrained support to the policy.
Representatives from all major automotive OEMs (including Tata, Mahindra, Maruti, Kia, Hyundai), auto dealers and used car aggregators (including Car Dekho, Cars24) attended the event and shared their perspectives on the challenges and actions required to expedite the implementation of the vehicle scrapping policy.
Additional Secretary Mahmood Ahmed welcomed the dignitaries and industry participants and highlighted key benefits of V-VMP. This was followed by a presentation on the status of V-VMP and support required from the automotive industry by Director Paresh Goel.
SIAM also presented their views on the incentives for citizens through this policy and good inputs were provided by all other automotive industry stakeholders.