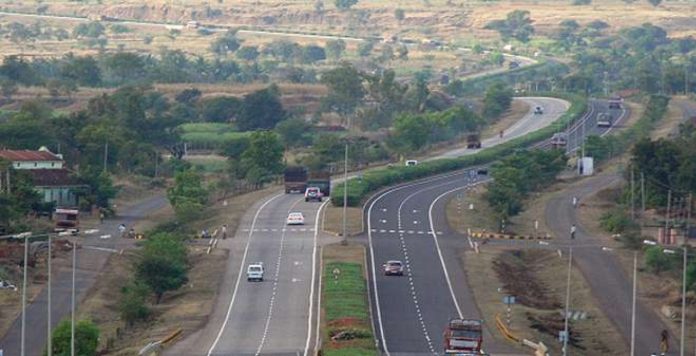 Snapshot
Nitin Gadkari says roads built under Bharatmala programme will increase vehicle travelling speed by around 20-25 per cent, thereby helping reduce logistics costs
Roads built under India's ambitious Bharatmala programme will increase vehicle travelling speed by around 20-25 per cent, thereby helping reduce logistics costs, Transport Minister Nitin Gadkari said at a press conference in the capital.
This in turn would help reduce India's supply chain cost to 6 per cent from the present levels of 18 per cent, said Gadkari, who heads the Ministry for Road Transport, Highways and Shipping, and Water Resources, River Development and Ganga rejuvenation.
India has been grappling with high logistics costs of 16-18 per cent, which make its exports uncompetitive vis-a-vis China, which has lower logistics costs of 8-10 per cent.
The Union cabinet on Tuesday approved an outlay of Rs 6.92 trillion for building an 83,677-kilometre road network over the next five years. The road construction push includes the Bharatmala Pariyojana with a Rs 5.35 trillion investment to construct 34,800 km of roads. In addition, Rs 1.57 trillion will be spent on the construction of 48,877 km of roads by the state-run National Highway Authority of India (NHAI) and the ministry of road transport and highways.
"Bharatmala will bring down logistics cost, impacting exports and investment," Gadkari said.
He added that the government's marque Bharatmala scheme will create 100 million man-days of jobs during the construction phase and 22 million permanent jobs due to the increased economic activity triggered by it. The government expects the road construction programme including Bharatmala to generate 142 million man-days of jobs.
Gadkari's statement comes amid concerns over falling employment opportunities and job creation which have been impacted by policies like the goods and services tax (GST).
Enumerating the benefits of the Bharatmala scheme, Gadkari said the number of road accident deaths will reduce by half.
According to the ministry of road transport and highways, a combination of factors such as human error, road defects, manufacturing defects in vehicles and worsening traffic congestions is raising the level of human vulnerability to accidents.
"Bharatmala Pariyojana will change the destiny of country, is the biggest-ever infra scheme in its history," Gadkari said.
Gadkari said that the planned road construction will result in 80 per cent of India's vehicular traffic being carried by the national highway network.
India's 100,000 km of national highways, which constitute just 2 per cent of total road network in the country bearing 40 per cent of the traffic.
Analysts have lauded the move.
"The latest announcement provides a positive push to the infrastructure segment in the economy. Mobilising large quantum of funds required, especially from the private sector, would be vital for the successful implementation of these projects," Care Ratings wrote in a note on Wednesday.
To fund the Bharatmala scheme, Rs 2.09 trillion will be raised as debt from the market, while Rs 1.06 trillion in private investments is being targeted through public private partnerships. In addition, Rs 2.19 trillion will be provided from Central Road Fund (CRF), Toll-Operate-Maintain-Transfer (TOT) projects and toll collections of NHAI.
For projects not covered under the Bharatmala programme, Rs 97,000 crore will be provided by the CRF and Rs 59,000 crore will be provided as gross budgetary support.
"Money is not the problem," Gadkari said while stating that NHAI has a AAA rating which will help it tap the capital markets.
With bank credit drying up for large infrastructure projects, the government is exploring a plan to raise Rs 10 trillion from retirees and provident fund beneficiaries.
NHAI will offer more than what the bank's interest rates pay, Gadkari said.
Mint reported on 12 September that the government planned to fund large infrastructure projects by raising money in tranches of Rs 10,000 crore by selling 10-year bonds at a coupon of 7.25-7.75 per cent.
Commenting upon the growth registered by the Indian ports, Gadkari said they will earn Rs 60,000 crore profit in the current financial year.
Major ports in India handled 326.4 million tonnes of cargo in the April-September period, an increase of 3.24 per cent over the 316.1 million tonnes they handled a year ago. According to the ministry of shipping, seven out of the 12 major ports in the country recorded traffic growth in the first half of the current fiscal.
(Mint)