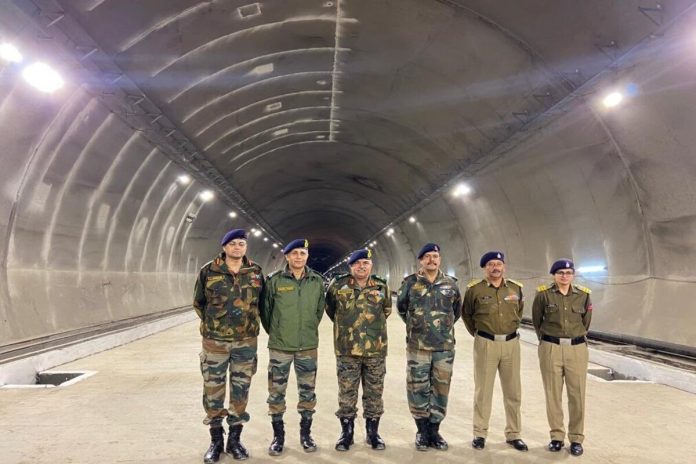 The Border Roads Organisation (BRO) is on track to complete the Sela tunnel in Arunachal Pradesh, which is set to become the world's longest twin-lane tunnel situated above an altitude of 13,000 feet.
This tunnel is expected to facilitate faster deployment of troops and weaponry to forward areas in the Tawang region.
Officials familiar with the project have stated that it is scheduled for completion by the end of September, a report in the Hindustan Times says.
This development comes at a time when India has been intensifying its efforts to bolster infrastructure near the border with China.
The foundation stone for the ambitious Rs 700 crore Sela tunnel, located on the Balipara-Charduar-Tawang (BCT) road, was laid by Prime Minister Narendra Modi back in February 2019.
Another vital project aimed at enhancing connectivity in remote regions is the Nechiphu tunnel in the northeastern state.
According to one of the officials, this 500-meter tunnel, situated at an elevation of 5,700 feet on the BCT road in West Kameng, is set to be inaugurated next week, the Hindustan Times report said.
The timing of this development is noteworthy, as China has recently revealed a new map in which it asserts territorial claims over areas in eastern Ladakh and Arunachal Pradesh.
This action has prompted a strong condemnation from India.
Additionally, the map in question has garnered criticism from China's Southeast Asian neighbours, who have expressed disapproval due to its depiction of nearly the entire South China Sea as Chinese territory.
However, the completion of the Sela tunnel project faced delays due to various challenges. Adverse weather conditions, including cloudbursts and landslides, damaged one of the approach roads during the rainy season.
Nonetheless, the project is now on the brink of completion and is expected to be ready in approximately four weeks.
The defense ministry is planning to request time from Prime Minister Modi for the inauguration of the Sela tunnel.
This project holds immense significance as it addresses the long-standing logistical challenge posed by the 14,000-foot-high Sela pass during winter.
For decades, the movement of personnel, weaponry, and supplies to Tawang was severely affected for three to four months each year due to the harsh winter conditions.
The new tunnel is expected to significantly reduce travel time to Tawang, saving at least one hour and providing all-weather connectivity.
Originally slated for completion and opening last year, the project experienced delays due to extended winters, which slowed down construction progress. Technical challenges, such as delays in concrete setting inside the tunnel, also contributed to the project's postponement, according to officials.
The project encompasses two tunnels, with Tunnel 1 measuring 980 meters in length and Tunnel 2 consisting of a twin tube tunnel spanning 1,555 meters. Both tunnels have been constructed through two ridges west of Sela.
Additionally, the project includes two roads, one spanning 7 kilometers and the other 1.3 kilometers. Tunnel 2 is equipped with one bi-lane tube for regular traffic and one escape tube for emergencies, in compliance with safety regulations that mandate escape passages for tunnels longer than 1,500 meters.