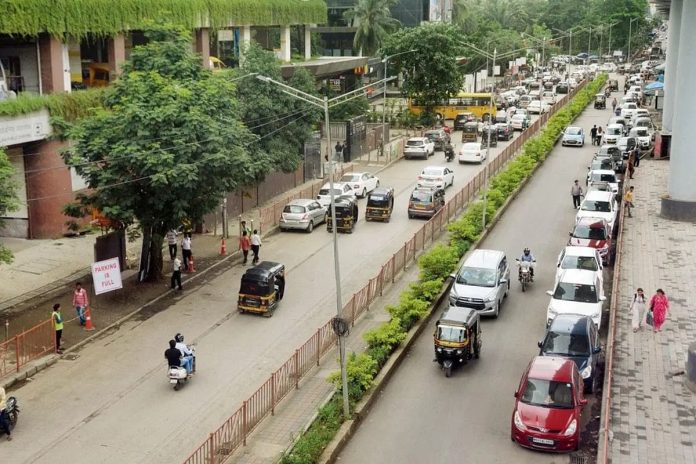 Mumbai Parking Authority plans to implement a ward-wise parking management plan. This policy aims to streamline both on-street and off-street parking.
Mumbai Parking Authority (MPA), a committee established by the Brihanmumbai Municipal Corporation (BMC), has developed a draft policy to improve the chaotic parking situation in the city.
Following a court order in November, MPA was created on lines of the London Parking Authority.
The committee consists of urban, policy, transport, and environmental planners, as well as technical analysts. Ramnath Jha, the chairperson of Mumbai Heritage Conservation Committee, leads MPA.
While the London Parking Authority manages each borough separately, Mumbai plans to implement a ward-wise parking management plan.
This plan will include designated parking bays and an increase in the number of parking wardens. P Velrasu, additional municipal commissioner, is overseeing this project.
MPA aims to introduce a comprehensive parking policy, departing from the previous simple price chart. Each ward and street in Mumbai will have a specific parking plan, with some streets having pay-and-park spaces, while others may not allow parking at all.
The draft proposal has already been submitted to the urban development department.
Prachi Merchant, a senior urban planner from MPA, outlined the nine verticals of the project, which include — establishing a legal framework, setting policy guidelines, creating an IT interface, developing a ward-wise parking management plan, installing road-signages, empowering the BMC to enforce rules, implementing a communication and sensitization program, establishing a scrapyard, and forming a Mumbai parking pool, reports Hindustan Times.
"Each street will have a parking proposal; either it will be pay-and-park or no parking, or pick-up and drop, loading-unloading, residential and general parking, based on the width of the road,"
The draft policy has been developed with the aim of addressing the parking needs of a modern city. It is expected that the policy will greatly improve space management, citizen interaction, and information accessibility.
To promote the plan, advertising campaigns will be conducted through hoardings and social media.
Wardens will also be trained on how to effectively communicate with vehicle owners and drivers regarding on-street parking. Parking on the street will no longer be free, as the importance of on-street parking is being emphasised by parking attendants.
The plan also highlights the specific needs of different segments of drivers. To understand the concerns of various drivers in the city, including those who drive buses, taxis, autorickshaws, cars, motorcycles, trucks, chauffeur-driven cars, and women drivers, guidelines have been prepared with the help of professionals.
"For example an autorickshaw driver has a pattern of working for a few hours and then resting. He needs a parking space or auto stands and resting places. They go to their villages for months so there will be a space secured for their rickshaws. They want a place for parking at night too where their vehicles are safe. We will address these issues," Merchant added.
Additionally, the civic body is actively searching for a scrapyard to handle abandoned or end-of-life vehicles. This year, a Request for Proposal (RFP) has been issued to appoint an IT company to set up the necessary infrastructure.