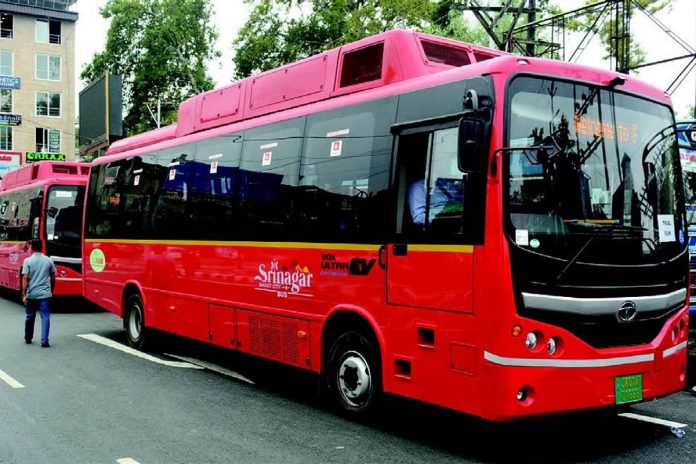 The Srinagar city revamping under the Srinagar Smart City initiative is making significant strides in its efforts to develop modern infrastructure and breathe new life into the city.
Aligned with this direction, the capital of Jammu and Kashmir saw the introduction of smart electric buses equipped with air-conditioning and cameras on Thursday (24 August).
The trial run of these buses commenced on four major routes in the city — including Dalgate-Nishat-Hazratbal, TRC-Iqbal Park-Airport, Old City through Khanyar, and Karan Nagar-Soura.
Municipal commissioner and Srinagar Smart City CEO, Athar Aamir Khan, highlighted the importance of these electric and zero-emission buses in a city like Srinagar.
The objective of the trial run is to determine the commute duration, familiarise drivers with the routes, and test the IT and camera systems on the go — to ensure the buses can operate effectively on the local roads before their official inauguration, reports Hindustan Times.
The citizens have often complained of overloading in the current public transport system mostly run by private operators in Srinagar. Also, the city roads get deserted in the evenings causing much inconvenience to the commuters working late.
In an effort to address the lack of public transport, the Smart City Mission authorities have introduced 100 buses — aimed to modernise traffic management while minimising the burden on the environment.
According to Khan, "These 100 buses will significantly improve the transportation here. Since these are electric buses, they won't cause pollution and are clean."
As part of the mission, authorities have developed an integrated public transport system plan for the city. This plan outlines the specific routes for each bus, as well as the locations of stops, halting points, depots, and charging points.
To ensure the effectiveness of the new transport system, trial runs will be conducted on all routes in the upcoming days. The commissioner expresses optimism that the entire project will be rolled out by next month, once the full fleet of buses is available.
The buses are equipped with air conditioning and air curtains to maintain a comfortable temperature. Additionally, there are five cameras placed strategically throughout the bus, including in the front, back, and near the driver's seat.
In case of emergencies, the buses have a panic button that is connected to a command-and-control centre for immediate assistance.
Srinagar city has a rich and important heritage significance, but in the past years, the city had been neglected of the required infrastructure and resources to grow. The city infrastructure and governance always remained mismanaged.
Other projects aimed at revitalising the historic city include the revamping of water bodies and its surrounding areas, construction of pathways and kiosks, redevelopment of public and market spaces, development of open gymnasium, parks, multi-level parking lots, and cycling tracks.