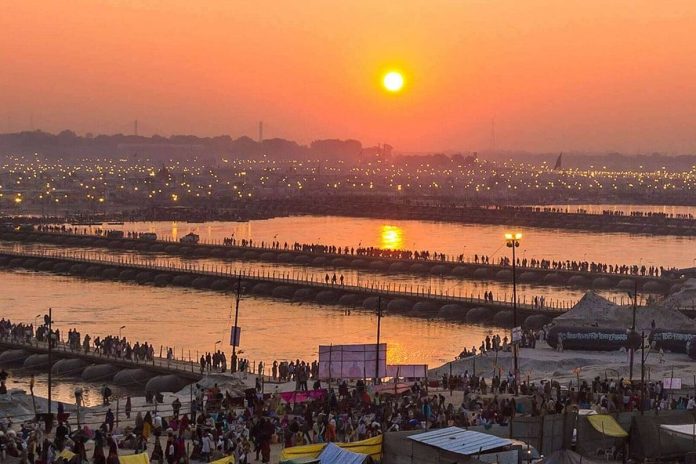 The Uttar Pradesh administration intends to establish a sprawling "tent city", spanning 25 hectares in Prayagraj, in its efforts to redefine the experience and make Mahakumbh 2025 a momentous occasion.
This project will be equipped with luxury accommodations for 2,000 guests and the tender for this project is scheduled to be released today (29 September), reports Indian Express.
To facilitate this project, the government will divide the land into 10 different plots, each measuring 2.5 hectares.
Each plot will have a capacity of 200 beds and offer various luxury accommodations such as villas, super deluxe rooms, and deluxe room facilities. This will cater to the diverse needs and preferences of the visitors.
In addition to the luxury accommodations, the government is considering innovative facilities to enhance the experience for visitors, particularly younger tourists.
These facilities may include sleeping pods, container accommodations, and water and adventure sports.
This religious event takes place every 12 years and attracts millions of devotees.
The government is expecting an overwhelming number of pilgrims to visit Mahakumbh, with an estimated count of over 40 crore.
The previous Mahakumbh in 2013 witnessed a footfall of approximately 12 crore pilgrims, while the 2019 Ardha Kumbh, which occurs every six years, saw nearly 24 crore people attending the mela.
To expedite preparations for the event, the government has allocated a budget of Rs 2,500 crore at various levels, as stated by officials.
The Uttar Pradesh State Tourism Development Corporation is the nodal agency for this project.
Ashwani Kumar Pandey, the Managing Director of the Uttar Pradesh State Tourism Development Corporation, said, "We have decided to develop a tent city on 10 plots of 2.5 hectares each. Every plot will have 200 beds with all the required amenities. Our target is to develop accommodation with 2,000 beds in the first phase,"
The tender has been designed to be flexible in order to accommodate different players with experience in developing tent cities, as well as those in the hospitality and allied industries.
The tent city is expected to house guests for approximately 2 months.
Pandey added, "In the next phase, we are planning to explore innovative ideas like sleeping pods, container accommodation, and providing water and adventure sports facilities,"
In 2025, the 45-day event commencing on January 13 will feature various snan (sacred baths), encompassing six significant snan.
Earlier this year, the Tent City in Varanasi was also inaugurated by Prime Minister Narendra Modi.
The Tent City, developed on the banks of the Ganga, opposite the famed ghats of the holy city, aims to tap the tourism potential of the region.
Developed by the Varanasi Development Authority in public-private-partnership mode, the Tent City provides accommodation facilities to tourists along with live classical music and yoga sessions among others.
Tourists can reach Tent City by boats from different ghats of Varanasi.