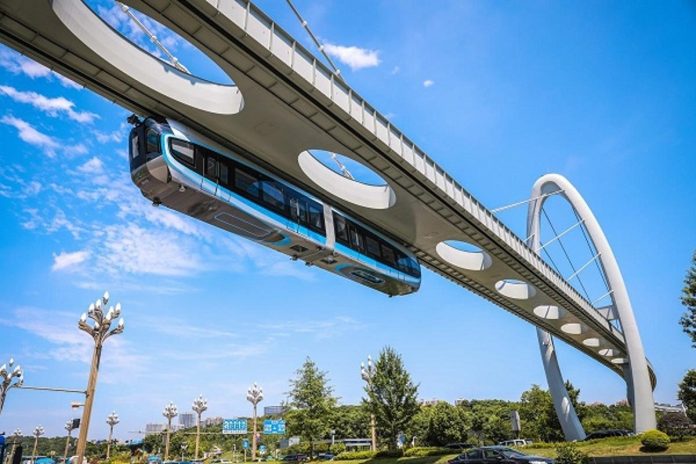 In a remarkable addition to China's public transportation network, the country's first suspended monorail line opened to the public on Tuesday in Wuhan, the capital of Hubei province.
The first phase of the line spans 10.5 kilometers with six stations in the Optics Valley of China, a national innovation demonstration zone in Wuhan.
The suspended monorail is an elevated railway, wherein the vehicle is suspended from a fixed track, constructed right above waterways or roads. The train dangles beneath a track and carries loads or people.
Having a train suspended under a single track is a clever solution. Compared to conventional railways or subways running on double tracks the monorail provides a much smoother ride. It also eliminates interference from other traffic and pedestrians.
The Wuhan monorail, with rails on top giving it an upside-down appearance, has been aptly named "the Optics Valley Photon" – when it glides above the city at night, it truly lights up like a dazzling photon.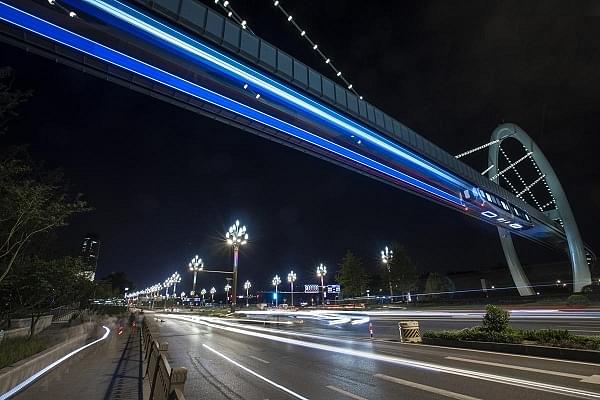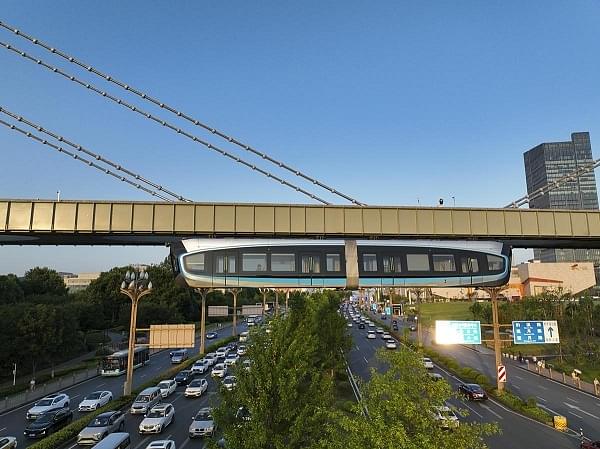 The two-carriage car runs at 60 km per hour and can hold maximally 220 people. The car can add more carriages depending on the passenger flow.
The line operates for 12 hours each day, between 8 am and 8 pm, with a train departing every 10 minutes. The entire process from door operations and station entry to exit, as well as the train's actual movement, is fully automated and drivers only intervene in case of emergency.
Xie Hongzhen, a staff member of Optics Valley Traffic Company, the operator of the monorail, explained that the vehicle is suspended from a single beam, making it an ingenious operational solution, writes Xinhua.
The train dangles beneath the track, featuring a glass floor that provides travellers with a unique view of the city. This perspective offers a distinctive experience, allowing passengers to observe what lies directly beneath them.
The first test run of the suspended monorail took place in May, capturing the attention of tourists and locals alike. However, it's worth noting that the Wuhan monorail is not the world's first suspended monorail; similar systems can be found in countries like Japan and Germany.
Situated in Wuppertal in Germany, the 13.3 km Wuppertaler Schwebebahn runs through the Wupper Valley, of which a good ten kilometres of track run above the river and transports nearly 80000 passengers on a daily basis
This new suspended monorail in Wuhan is more than just a futuristic design, it's also a window to the future of urban mobility.