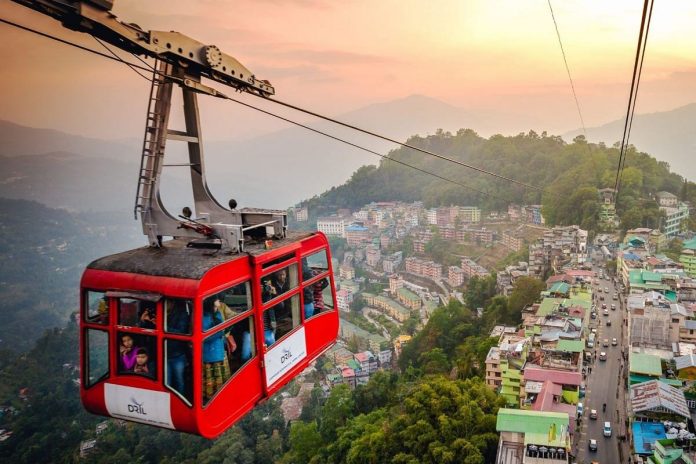 Almost a year after the foundation stones for two ropeways in Uttarakhand — Sonprayag-Gaurikund-Kedarnath and Govind Ghat-Ghangaria-Hemkund Sahib — were laid, the government is yet to bid them out for development.
According to sources, fresh bids would be floated soon and there have been some discussions on whether there needs to be some capping on the number of pilgrims, who can take these ropeways to visit the shrines enroute.
Though earlier bids were floated and one private player had emerged as the lowest bidder, the tender could not be awarded.
The foundation stone for these two projects were laid in October last year under the 'Parvatmala Pariyojana', which aims to boost connectivity in the hilly areas and boost tourism.
The cost of the 13-km-long Sonprayag-Gaurikund-Kedarnath ropeway project was earlier estimated around Rs 1,200 crore and the Govind Ghat-Ghangaria-Hemkund Sahib (12.5 km) project was pegged around Rs 850 crore. Sources said that the project costs are likely to be revised.
As per earlier estimate, the ropeway to Kedarnath, which would be one of the world's longest ropeways, would be built at an altitude of 3,583 metres above sea level, and the plan envisaged 3,600 passengers could travel in an hour, per direction.
According to the sources, with the recent development of assessing the carrying capacity of hill stations, the possibility of limiting the number of passengers can not be ruled out.
Once completed, pilgrims and tourists can reach Kedarnath from Sonprayag in just 60 minutes. Currently, it takes 6-7 hours.
The 12.5 km proposed ropeway to Hemkund Sahib via Ghangaria will reduce the travel time to about 45 minutes.
Ghangaria is the gateway to Valley of Flowers national park. The way from Govind Ghat to Hemkund Sahib is a 19 km steep and tough foot track and it takes about 12 hours to reach the shrine.