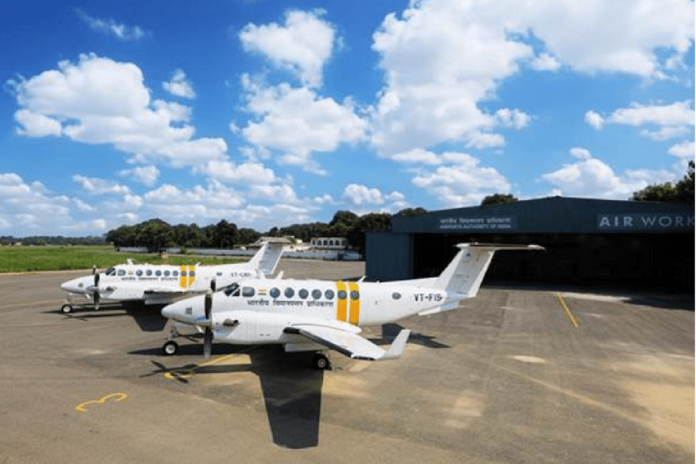 Airports Authority of India (AAI) has added two new B-360 type of aircraft equipped with advanced state-of-the-art flight inspection system into the AAI flight inspection fleet on Monday (18 September).
With the induction of these new aircraft in its fleet, AAI will be able to accomplish the timely flight calibration of the ground radio navigational or visual aids at all airports in the country.
AAI will also provide necessary support by undertaking flight calibrations in the neighboring countries, which will also lead to generation of revenue.
The induction of two new aircraft into active flight calibration service was flagged off by Union Civil Aviation Minister Jyotiraditya Scindia.
The flight inspection unit of AAI is a very critical component in the safety chain of air navigation service throughout the Indian airspace.
Considering the importance of aviation infrastructures and expanding network of airports in the country, navigational aids are also being set up at all airports for safe flight movements.
Speaking at the occasion, Scindia, said, "AAI has inducted two new B-360 type of aircraft equipped with advanced technology into the AAI flight inspection unit (FIU) fleet. Flight calibration services ensure efficient and safe operation of aircraft by validating various navigation services' procedures."
These aircraft will be used in calibrating the Category I, II and III instrument landing systems.
Flight inspection being critical in ensuring the best international standards as set by the International Civil Aviation Organisation (ICAO), needs to keep pace to ensure Indian aviation gets this equipment to function to the strictest parameters.
Presently, landing aids like instrument landing systems and precision approach path indicator installed at the numerous airports around the country, are being used.
Established in 1959 at Bamrauli, Allahabad (now known as Prayagraj), FIU was shifted to Safdarjung Airport in 1986.
Starting with Dakota aircraft, FIU then moved on to HS748 AVRO and then on to Dornier DO-228 and Beechcraft King Air B350.