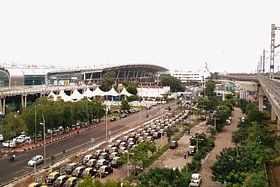 The trial run of Chennai Airport's Terminal 4 was initiated by the Airports Authority of India and began with the introduction of domestic flight services on Tuesday (14 November).
To mark the launch, Airport Director C V Deepak presented the boarding pass to the first passenger of an Air India flight. The pilot launch saw an Air India flight arriving from Port Blair with 148 passengers, after which it departed for Bengaluru with 152 passengers on board.
In April, the new integrated terminal building at the Chennai International Airport's Phase 1 will be inaugurated by Prime Minister Narendra Modi.
It is part of a Rs 1,260 crore project aimed at enhancing passenger services. The addition of this terminal is expected to increase the airport's passenger serving capacity from 23 Million Passengers Per Annum (MPPA) to 30 MPPA.
Chennai international Airport consists of two terminals namely – Kamaraj Domestic Terminal and Anna International Terminal.
"Terminal 4, which was under renovation since the commencement of T-2 is now ready to roll. Trial operations by Air India are being held on November 14 and regular domestic operations will commence from November 15," announced Chennai airport in its official social media post.
All domestic flights operated by Air India and Alliance Air are scheduled to operate from the T-4 terminal starting November 15, reports Economic Times.
The airport further emphasised, "Terminal 4 is now made fully operational to handle domestic flight operations. Starting November 15, all domestic operations of Air India and Alliance Air will be shifted to Terminal 4."