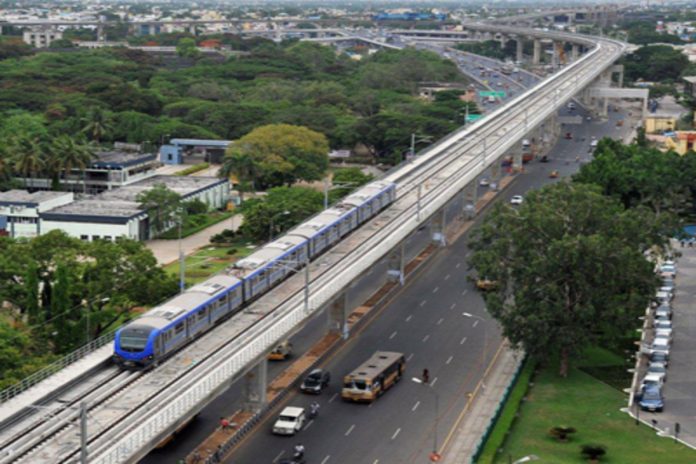 As the eagerly awaited Phase 2 of the Chennai Metro gears up for its opening between 2025 and 2028, a network of 63 state-of-the-art steel bridges is set to redefine the city's landscape.
The bridges would be strategically positioned above buildings and flyovers to facilitate the seamless operation of driverless trains of Chennai Metro Phase 2.
Highlighting the groundbreaking construction methodology, Chennai Metro Rail Limited (CMRL) spokesperson L Girirajan explained that these steel bridges, consisting of long spans of steel girders, are strategically deployed where vertical clearance is restricted, and traditional concrete viaducts with pillars are impractical due to existing structures, roads, or restricted zones below.
The intricate network of steel bridges, a critical component of the Phase 2 expansion, will span across various locations including Chennai Bypass, Thelliyaragaram, Poonamallee Junction, Porur Junction, Valasaravakkam, Adambakkam, Ramapuram Junction, Kathipara, Kalliamman Koil Street, Butt Road, Echankadu, Perumbakkam, Medavakkam, Retteri, MMBT, ICF crossing, and the national highway crossing in Koyambedu.
The recent installation of a 40-metre-long steel girder bridge, weighing a substantial 222 tonnes, above the Chennai bypass flyovers on Mount-Poonamallee High Road near Porur, exemplifies the magnitude and scale of the engineering feat.
This installation is part of the larger Phase 2 construction from Porur to Poonamallee Bypass.
The deployment of steel girders, according to the CMRL spokesperson, offers advantages over traditional concrete girders, especially in areas with height constraints.
"A steel girder requires less depth than a concrete girder, aiding in compliance with vertical clearance requirements. Both steel and concrete girders adhere to stringent safety standards," he assured, reports Times Of India.
In addition to meeting structural requirements, the use of steel bridges introduces cost-effective and time-efficient solutions. Furthermore, longer spans reduce the number of piers required for a crossing, enhancing the aesthetic appeal of the infrastructure.
While acknowledging the swift installation capabilities of steel girders, officials emphasised that these procedures are executed during night hours to minimise traffic disruptions.
The complex task requires heavy lifting equipment, such as 500-metric-tonne cranes, and continuous monitoring to ensure precision and safety.