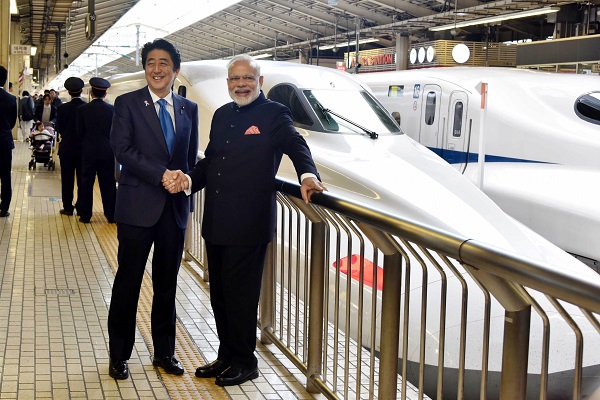 Celebrating the forthcoming International Women's Day in a unique way, the National High-Speed Rail Corporation Limited (NHSRCL) has gifted sewing machines to 23 women from Chenpur and Ropda villages in Ahmedabad to enhance income generation opportunities on Friday.
NHSRCL, responsible for the execution of the 508 km long Mumbai-Ahmedabad high-speed rail corridor project, has initiated the step under the Income Restoration Programme for the project affected people.
Besides paying compensation, several other beneficiary measures are being undertaken by the NHSRCL in the area where the land is being acquired for the bullet train project.
The entire high-speed rail corridor will require 1,434 hectares of land with 353 hectares in Maharashtra and the rest in Gujarat. This is divided into 7,000 plots, in 195 villages in Gujarat and in 104 villages in Maharashtra. The project covers three districts in Maharashtra and eight in Gujarat, besides a small area in Dadra and Nagar Haveli.
A month-long stitching and tailoring course for women of Chenpur and Ropda villages in Ahmedabad was organised in association with Rural Self Employment Training Institutes.
"These courses are being designed to instill skill sets in women and to enable them to generate income and this is NHSRCL's way of celebrating International Women's day," said a senior official involved in the project.
The official further said in order to make these women self-reliant and independent, 23 sewing machines were distributed in a function in Ropda village where more than 100 project affected persons and their families and friends were also present.
According to NHSRCL, the land acquisition process is not limited to the payment of compensation, but also includes skill development, training enhancement for income restoration and development of livelihood restoration and income generation opportunities for the project affected persons.
It is estimated that of the total Rs 1,10,000 crore that will be spent on the project, Rs 88,000 crore will be given to India as a loan. These loans will be available at 0.1% interest and India can repay them in 50 years with a moratorium on repayments up to 15 years.
The bullet train project was launched at a ceremony in Gandhinagar in Ahmedabad in September 2017 attended by the Japanese Prime Minister Shinzo Abe, along with Indian Prime Minister Narendra Modi.
Extensive engagement is being undertaken to make sure that all project-affected persons are well informed about the available options and are given adequate opportunity to participate.
It is learned that more than 200 trainees have been benefitted from these training programmes and some of them have already been employed or have started their own business.
A number of similar training programmes including mobile repairing, beauty parlour, bike repairing, electrician, etc. are being carried out in various villages along the Mumbai-Ahmedabad High-Speed Corridor.
A list of training institutes and training programmes in various districts along the corridor, application form for participating in this training and contact details of the responsible NHSRCL officials are available on its website.
On this occasion, Director (Project) Rajendra Prasad said "NHSRCL is taking all necessary steps towards supporting project affected families in improving their livelihoods through various skill development programmes being organised along the corridor."
Tailoring & stitching course was introduced to empower women in the project affected families and distribution of sewing machines and the step in this direction to make them self-reliant.
The work is going on full speed and till now, out of the 508 km route, the tender has been floated for 348 km at an estimated cost of over Rs 35,000 crore.
NHSRCL will procure 24 E5 Series Shinkansen train sets to operate on the corridor, of which six are to be assembled in India. The trains are being customised to operate in Indian conditions. The Shinkansen or bullet trains are EMU train sets and different from loco-hauled trains and metro trains in India. The tender for procuring 24 trainsets has already been floated and it would open by the end of December. The estimated cost of the 24 train sets with 10 coaches each is about Rs 8,000 crore.
The high-speed rail corridor will have 12 stations between Mumbai and Ahmedabad. The proposed stations are Bandra Kurla Complex, Thane, Virar, Boisar, Vapi, Bilimora, Surat, Bharuch, Vadodara, Anand, Ahmedabad, and Sabarmati. The bullet train, with the capacity to accommodate 750 people, is expected to reduce the travel time between the two major metropolises to less than three hours from the current seven hours.
According to the feasibility report, if the train stops at these 12 stations, it will cover the distance in two hours and 58 minutes at a speed of 320 kmph. However, if the train stops at only four stations, the distance can be covered in two hours and seven minutes.
Of the 508 km route, 468 km of the track will be elevated, 27 km of the route will have a tunnel and the remaining 13 km will be on the ground. The 27 km of the tunnel will pass through seven kilometers under the sea near Thane, making it India's first underwater rail route. NHSRCL floated the third tender this year for 90 km of viaduct including one station at Anand. With this, NHSRCL has invited bids for the construction of about 69% (348 kms) of the total 508 kms, including 21 kms of the underground tunnel, 5 elevated stations and one depot at Surat.
Earlier this year, bids were invited for the 237.10 km long viaduct between Zaroli village at Maharashtra-Gujarat Border and Vadodara in Gujarat. Another tender was for the underground tunnel of about 21 kms including 7 kms of an undersea tunnel in Maharashtra.
The fares on the high-speed train are expected to be 1.5 times higher than the current first-class AC fare on the Mumbai-Ahmedabad route. The maximum fare was expected to be Rs 3,000 and the minimum fare would be Rs 250.
Besides the feasibility and technical reports that have been prepared, soil and rocks below the 70-meter deep sea are being tested as part of the geo-technical and geo-physical investigation undertaken for the project. There is also a plan to employ 28 drivers for bullet train operations in the current financial year. The corridor uses three depots at Sabarmati and Surat in Gujarat and Thane in Maharashtra.