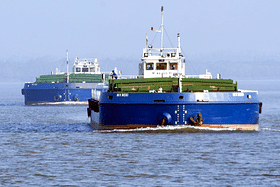 The Union Shipping Ministry plans to boost the construction of inland vessels and ships, aiming to achieve self-reliance and develop a blue economy.
The Ministry is reportedly working on a Rs 5,000 crore package to incentivise companies to build these vessels.
Under this scheme, the government will offer Viability Gap Funding (VGF) to firms interested in building these vessels.
As per a Mint report, the plan, currently under discussion and formulation, would first focus on developing an ecosystem to build inland vessels to support cargo movement on national waterways.
VGF may also be considered later for entities manufacturing sea-bound vessels, including cruise ships.
VGF is a capital grant from the government that targets large and long-term infrastructure projects that involve public-private partnerships. These grants play a crucial role in making such projects commercially viable, thus encouraging private investment.
The objective of the programme is to facilitate the production of inland vessels, catering to the transportation of passengers and goods, throughout India's progressively expanding inland waterways network, which has increased from only three in FY15 to 22 in FY23.
Furthermore, this scheme intends to encourage the development of coastal shipping.
According to the report, there has been a significant increase in annual cargo movement on waterways in India, with an increase from 30 million tonnes (MT) in FY15 to more than 116 MT in FY23, and is anticipated to rise further, to over 200 MT by the year 2030.
Additionally, it has been projected that the modal share of inland cargo movement will grow over 5 per cent by 2030, necessitating the production of more vessels.
Recently the Union Minister for Ports, Shipping and Waterways, Sarbananda Sonowal discussed plans to provide more financial support to encourage vessel manufacturing.
He stated that under the Ship Building Financial Assistance (SBFA) policy, financial assistance will be provided to Indian shipyards, to promote the construction of technologically advanced green ships, extending to the manufacture of all types of vessels.
This is aimed to make India an attractive destination for advanced vessel production.
He added that their policy not only involves developing the port, but also promoting shipbuilding nationwide, comprising shipbuilding, ship repair, and accessory facilities.