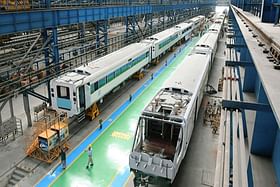 In a first the Railways would manufacture Vande Bharat trains for Standard gauge tracks. Continuing the growth trajectory, ICF would tender for manufacturing of 200 more Vande Bharat trains including two for Standard Gauge tracks.
This will be the first time Indian Railways will manufacture the semi-high speed Vande Bharat train for Standard Gauge tracks.
Till now all trains including Vande Bharat are being manufactured for Broad Gauge (BG) tracks as most of the Indian Railways network is on BG mode.
But Europe and other western countries are mostly run on Standard Gauge. Track gauge is the distance between the rails.
While the BG tracks are 5 ft 6 inches wide, the SG tracks are 4 ft 8 inches only.According to ICF, the Standard Gauge Vande Bharat will be manufactured for export purposes. As a demonstrative project, two Vande Bharat trains would be produced for Standard Gauge.
The tender documents are being finalised and it would be shortly floated to invite rolling stock players for manufacturing 200 Vande Bharat with Sleeper facilities, the Railways maintains.
While majority of Vande Bharat trains would be made to run at 160 kmph, some would also be manufactured to run at 200 kmph speed.
The Standard Gauge Vande Bharat trains are likely to be made for 200 kmph speed.
The Railways has awarded contracts for manufacturing 302 Vande Bharat trains out of which 75 would be of seating capacity facility while tender for 200 trains with Sleeper coach facility are already being floated.