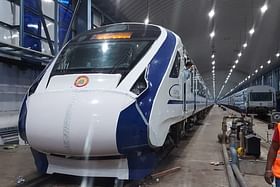 Bickerings between joint venture (JV) partners RVNL, the Railway PSU and the Russian giant TMH over the issue of majority shareholding in the proposed JV company has snowballed into a major crisis threatening to derail the the contract awarded to TMH and allowing the Railways to float fresh tender for 120 Vande Bharat trains.
As a result of this bickering, TMH is yet to deposit the mandatory performance bank guarantee causing penalty charges to the Russian company.
According to sources, high-level officials from the Russian embassy are slated to meet Railway Minister Ashwini Vaishnaw to sort out the issue.
In a setback to the Russian bid to manufacture Vande Bharat trains, RVNL, which is a junior partner with the Russian rolling stock giant TMH for manufacturing 120 Vande Bharat trains at Latur, has claimed to be a major partner of the Rs 40,000 crore project.
In a letter to the TMH, RVNL has sought to become a major shareholder in the joint venture which was outrightly rejected by the Russian company.
While the TMH has rejected its partner's claim to become majority stakeholder in the joint venture, the Russian company has not deposited the mandatory performance bank guarantee of Rs 200 crore, yet, despite the expiry of 45 days period.
After receiving the letter of award, the bidder gets 45 days to deposit performance bank guarantee. However, the TMH is yet to submit the bank guarantee.
TMH in partnership with RVNL became the lowest bidder to bag the project for making 120 Vande Bharat trains while Titagarh in partnership with BHEL became the second lowest bidder to manufacture 80 Vande Bharat trains with Sleeper coaches.
The Russian company bagged the award with the lowest quotation of Rs 120 crore per Vande Bharat train.
Besides the manufacturing of Vande Bharat trains, the project has 35 years of maintenance responsibility.