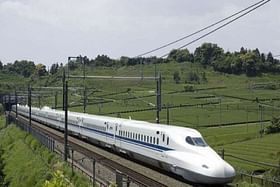 At least 13 middle management officers from the operations and maintenance department of the National High Speed Rail Corporation Limited (NHSRCL) are currently undergoing 'on-the-job training' in Japanese Shinkansen technology for the Mumbai-Ahmedabad high-speed rail (MAHSR) corridor.
These officers, representing various technical departments, will play a crucial role in managing and operating India's first high-speed rail corridor.
The training, which will last for 10 months, will take place at different locations in Japan and aims to provide specialised knowledge and expertise in the operation and maintenance of high-speed rail infrastructure, reports Times of India.
This training will allow the officers to explore the latest technological advancements, best practices, and operational methodologies that have made Japan a global leader in high-speed rail systems.
The acquired knowledge will be essential in ensuring the successful implementation and smooth operation of India's bullet train project.
Presently, the Mumbai-Ahmedabad high-speed rail is the only sanctioned high-speed rail project in the country.
Following earlier reports, up to 1,000 Indian engineers will be trained by Japanese experts for the MAHSR corridor before starting work on the track system.
The bullet train will use the ballast-less slab track system (popularly known as the J Slab track system), which is used in Japan's Shinkansen high-speed railways.
Rajendra Prasad, managing director of NHSRCL, stated that 20 Japanese experts will certify the skills of Indian engineers, supervisors and technicians through intensive training, paving the way for the transfer of technology of the Japanese HSR track system.
Japan Railway Technical Service (JARTS), nominated by Japan International Cooperation Agency (JICA), will provide training for the MAHSR project.
India's High-Speed Rail will cover a distance of 508.17 km between Mumbai and Ahmedabad in just about two hours.
It will cover 155.76 km in Maharashtra, 4.3 km in the Union Territory of Dadra and Nagar Haveli and 348.04 km in Gujarat, with a total of 12 stations.
The first trial run of MAHSR project, is scheduled for August 2026 between Surat and Bilimora spanning 63 km.