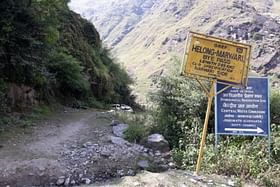 The Uttarakhand government and the Border Roads Organisation (BRO) have decided to consult the Geological Survey of India (GSI) and the Indian Institute of Technology (IIT), Roorkee, on resuming the work on the Helang-Marwari bypass.
The work for the bypass started in September 2022, and had come to a halt following the land subsidence crisis, in Joshimath town.
The state's disaster management secretary Ranjit Sinha, stated that, "the BRO is waiting for the technical report to proceed with the bypass work. If the technical agencies give their go-ahead, the work will re-begin. It would be unjustified to keep the important work suspended if not making any impact on the ongoing land subsidence situation in the holy town."
The government wants to resume the work at the earliest in view of the significance of the connectivity for the Badrinath journey, and for the Indian Army.
Prime Minister Narendra Modi laid the foundation stone for Char Dham all-weather road project, in December 2016. The project aims to provide all-weather connectivity to four major Hindu shrines of Badrinath, Kedarnath, Gangotri and Yamunotri located in the upper Himalayas of Uttarakhand.
Under the Char Dham project, the Helang-Marwari bypass is being constructed, at around 13 km from Joshimath. The Bypass is expected to cut down the distance to reach Badrinath, by 30 km.
Currently, pilgrims have to cover a long distance to reach Marwari from Helang, which goes via Joshimath.
Furthermore, considering the land subsidence crisis faced by the town, the bypass will reduce the burden of vehicles and population traffic passing through Joshimath, preventing further impacts.
Meanwhile, the evacuation and rehabilitation process are underway in the town. The affected families are being resettled to sites away from the impacted and unsafe areas.
The Chamoli district administration has identified rehabilitation areas in nearby villages Dhak, Gaunk Selang, and Pipalkoti. The temporary relief camps in Joshimath have a total of 656 rooms, with a capacity of 2,940 people, and Pipalkoti has 491 rooms, with a capacity of 2,205 people.
The construction work for pre-fabricated houses, for rehabilitation, has also been started by the Central Building Research Institution (CBRI), Roorkee. The construction of one BHK, two BHK and three BHK model prototype pre-fabricated shelters, is ongoing in Dhak village.