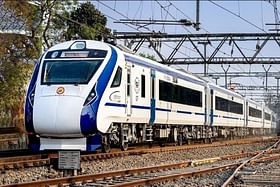 The Vande Bharat Express is expected to begin operating on tracks in the Odisha region in early May between Howrah to Puri.
The Indian Railways officials will conduct a trial run soon. It would most likely take five hours and 30 minutes to cover a distance of around 500 km.
Following the trial period, the Vande Bharat Express will begin regular service between Howrah and Puri, passing via Bhubaneswar with limited stoppages.
The decision to introduce the train was taken after the entire stretch from Howrah to Khurda Road section was upgraded for a maximum permissible speed of 130 kmph, reports The New Indian Express.
Given the influx of pilgrims and tourists to Puri sea beach, Jagannath Temple, the World Heritage Site at Konark, Chilika Lagoon, the operation of Vande Bharat service will serve the purpose.
Railway Minister Ashwini Vaishnaw announced the launch of the Vande Bharat Express in Odisha in 2021.
With the Puri-Howrah Vande Bharat Express, Bengal will have two Vande Bharat trains. The other one is the Howrah-New Jalpaiguri service, launched on 30 December 2022.
The train has already been introduced to several other states, and most recently, Prime Minister Narendra Modi flagged off the Vande Bharat Express at the Thiruvananthapuram station.
The Vande Bharat Express train has 14 AC chair car coaches and two executive AC chair car coaches with a capacity of 1,128 passengers. They are equipped with indigenously designed, modern passenger amenities.
The Railways plans to run 400 Vande Bharat trains across India in the next three years.
The train is manufactured with indigenous technology, equipped with modern features and enhanced comfort. It has automatic sliding doors, reclining seats in all classes, and rotating seats in executive classes.