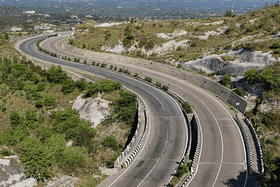 Union Road Transport Minister Nitin Gadkari on Monday (10 April) announced the widening of the 110 km national highway section, between Khanabal and Panchtarni in Jammu and Kashmir.
This is expected to drastically reduce the travel time of pilgrims in reaching the holy Amarnath shrine from Srinagar.
Announcing the decision during his visit to Jammu and Kashmir, the Minister said a 5-km concrete footpath will be constructed from Panchtarni to Amarnath shrine for pilgrims. He added there will be barricades on both sides for security purposes.
"We will spend around Rs 5,300 crore on the widening of the 110 km existing highway from Khanabal to Chandanwadi and then Chandanwadi to Baltal via Panchtarni. There will be a 10 km tunnel between Seshnag and Panchtarani, which will help pilgrims avoid any risk of snowfall. The detailed project report will be prepared for this project," Gadkari said.
The Minister also announced the construction of a new 9 km ropeway from Baltal to Amarnath, with an investment of Rs 750 crore. The tenders for the project will be out in November.
He added that another Rs 125 crore ropeway project will be taken up connecting Pahalgam with Baisaran (known as mini Switzerland) to promote tourism. This will also be bid out by November.
Earlier in the day, Gadkari took a review of the Zojila and Z-Morh tunnels with Jammu and Kashmir Lieutenant Governor Manoj Sinha and members of a parliamentary committee.
"We have decided to open the Z-Morh tunnel partially in October so that people can travel to Sonmarg during winter. We are trying our best for faster completion of the Zojila tunnel. These two tunnels will provide all weather connectivity to Ladakh," the Minister said.
Gadkari also said that the work for a 2-km ropeway to the pilgrim site at Shivkhedi in Jammu will start in May this year.
The Rs 175 crore work has been awarded and another project to provide ropeway connectivity to Shankaracharya temple in Srinagar at Rs 60 crore will be bid out in July.
Speaking to reporters, the minister also announced the government's approval of developing the 60-km-long Mughal Road, which connects Poonch district in Jammu with Shopian in Kashmir. The stretch will be widened at a cost of Rs 6,842 crore.