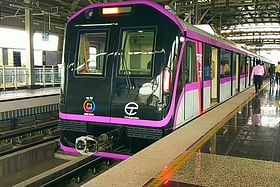 The Maha Metro has already completed the trial run on this stretch and the preliminary inspection by the CMRS has also been done.
After a long wait, commuters in Pimpri-Chinchwad can finally breathe easy as the Maha Metro is gearing up to launch services on an 8-kilometre stretch from Phugewadi to Civil Court, Shivajinagar after 15 May.
This stretch of the Pune Metro project has been completed and only the final clearance from the Commissioner for Metro Rail Safety (CMRS) is awaited.
"The much-awaited work on Pimpri to Civil Court, Shivajinagar has finally been completed. On 6 March, last year, we had started the Pune Metro service on a seven-kilometre stretch from Pimpri or PCMC headquarters to Phugewadi. Now, we are gearing up to extend the service from Phugewadi station to Civil Court, Shivajinagar. The work of the last station in Dapodi was completed 15 days back," Maha Metro spokesperson Hemant Sonawane told Indian Express.
The Phugewadi-Civil Court route was originally scheduled to be inaugurated in October last year, but was postponed to January on account of delays from strikes and land acquisition. Maha Metro has now slated the inauguration after 15 May.
The Maha Metro has already completed the trial run on this stretch and the preliminary inspection by the CMRS has also been done. The final inspection is expected to take place by the end of the month, after which Phugewadi-Civil Court stretch will be opened.
Pune Metro Project
Pune Metro Rail Project consists of two corridors, north-south corridor (Purple line) and east-west corridor (Aqua line), with a total length of 33.2 km and 30 stations.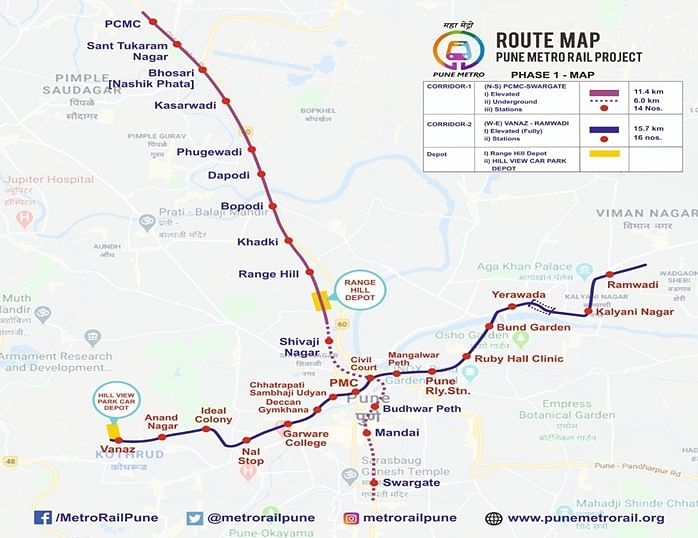 The 17.5-km-long north-south (NS) corridor from PCMC to Swargate has 14 stations. It passes through the industrial area of Pimpri-Chinchwad and further into old Peth areas of the Pune city.
This corridor has an 11.4 km elevated stretch and a 6.1 km underground section between Range Hills and Swargate.
The fully elevated East-West (EW) corridor starts from Vanaz Depot in east and goes upto Ramwadi. There are a total of 16 stations on this stretch and total length of this corridor is 15.7 km.
Pune Metro has two maintenance depots for up keep of trains. The depot on NS corridor at Range Hills is named as Range Hills car depot and the depot on EW corridor at Vanaz is named as Hill View Park car depot.
Inaugurated In 2022
It was in 2022 that Prime Minister Narendra Modi had inaugurated the 12 km stretch on NS and EW corridors of Pune Metro.
The NS corridor is currently operational for 7 km from Pimpri (PCMC headquarters) to Phugewadi with 5 stations — PCMC, Sant Tukaram Nagar, Bhosari (Nashik Phata), Kasarwadi and Phugewadi.
Similarly, the EW corridor has an operational length of 5 km from Vanaz to Garware College with five stations — Vanaz, Anand Nagar, Ideal Colony, Nal stop and Garware.
Two New Stretches In Progress
In addition to preparing for the launch of Pune Metro service from Phugewadi to Civil Court, the Maha Metro announced that it will also be launching service from Civil Court to two other locations.
The first stretch, spanning 2.37 km, will connect Civil Court to Ruby Hall, while the second, 2.75 km stretch will connect to Garware College station, both of which fall under the PMC limits.
While the work on the first stretch has been fully completed, the final stretch from Civil Court to Garware College is expected to be finished in the coming days.