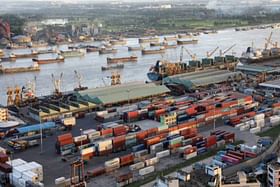 Bangladesh has cleared the use of Chattogram (Chittagong) and Mongla ports for India to facilitate transit and trans-shipment of cargo in order to significantly reduce the time and expenses involved in transporting goods to the northeastern states of India.
The National Board of Revenue (NBR) of Bangladesh issued a "permanent transit order" on Tuesday (25 April) that stated the trans-shipment of cargo will be done in line with standard operating procedures finalised by the two countries under an agreement signed in 2018, reports Hindustan Times.
This development follows an earlier statement made this month by Bangladesh's Minister of State for Shipping, Khalid Mahmud Chowdhury — regarding the forthcoming launch of operations for transit and trans-shipment of cargo between Northeastern India and Bangladesh — with Chittagong port as the main access point.
The minister stated, "We are ready for the start of transit and trans-shipment of goods between Bangladesh and the northeastern region of India through Chittagong. Trial runs were completed and all arrangements for immigration and customs formalities on the Bangladesh side are also ready".
New Routes Between The Two Countries
Chattogram port, Bangladesh's main seaport is located on the banks of the Karnaphuli River in the country's southeast and manages over 90 per cent of Bangladesh's overseas commerce.
Mongla port is the country's second largest seaport situated on the Bay of Bengal.
A total of 16 transit routes have been declared allowing cargo transportation from Chattogram or Mongla port to — Agartala through Akhaura, Dawki in Meghalaya via Tamabil, Sutarkandi in Assam via Sheola, and Srimantapur in West Bengal via Bibir Bazar.
Similarly, the northeastern states can use these same routes to send goods to the two ports in Bangladesh.
The NBR order states that the Indian operators will have to obtain a five-year license from Bangladesh customs, and goods being trans-shipped cannot be kept at ports in Bangladesh for more than a week, as per the HT report.
Any goods prohibited by the laws of Bangladesh cannot transit through the country, according to the order.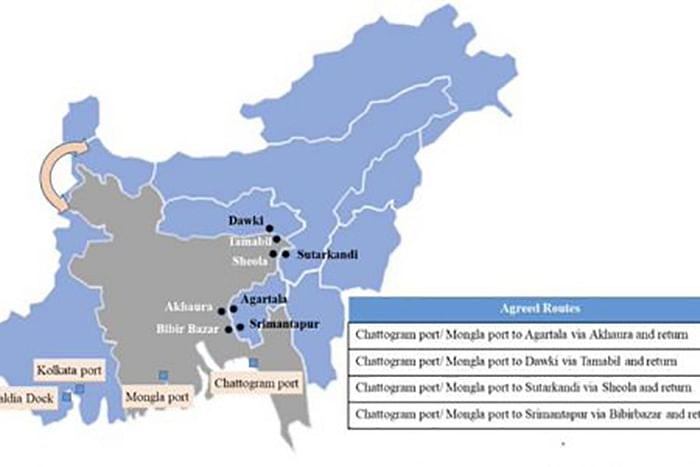 India and Bangladesh have strengthen connectivity in various ways such as re-opening cross-border railway links, enhancing riverine waterway systems and utilising ports for trans-shipment of goods.
In October 2018, the countries signed the "Agreement on the use of Chattogram and Mongla Ports for Movement of Goods to and from India".
The SOPs for the agreement were later finalized in 2019, but the trans-shipment of goods had not yet begun as Bangladesh still needed to work out certain customs procedures and arrange for necessary logistics.
Over the past year, trial runs were conducted by both sides to transport cargo to the northeast states of India via Chattogram and Mongla ports.
The first successful trans-shipment was carried out where iron rods and pulses were transported from Haldia port to Chattogram port before being shipped over land to Tripura.
The final trial run to connect Chattogram and Mongla ports to north eastern states via India-Bangladesh Protocol Route concluded on 7 November, 2022.