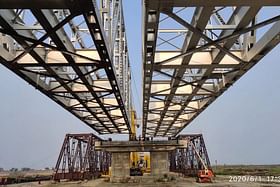 Rail Land Development Authority (RLDA) has invited bids for commercial development on a vacant plot of land measuring 1500 sq m, in the proximity of the Ajmer Railway Station.
The land parcel near Community Hall, opposite Swami Complex at Ajmer in Rajasthan, will be leased out for 60 years and the reserved price of the land is Rs 7.35 crore.
Many developers had participated in the pre-bid meeting and expressed keen interest in the project.
The land is strategically located near Ajmer Railway junction, which makes it easily approachable and connected to all areas of Ajmer. Local public transport facilities are conveniently available from the site.
On the north side, the proposed site is bounded by Ajmer Bus Stand, and toward the south side is Ajmer Railway Station. The East side is bounded by Topadra Road and the West site is bounded by Subhas Udhyan.
RLDA Vice-Chairman Ved Parkash Dudeja said "Ajmer has held strategic and religious importance throughout its rich and diversified history. It houses one of the oldest train routes of India that was built during the early colonial period and still exists today. The commercial development of the land will make it more convenient for tourists and citizens to usher in the beauty of Ajmer".
Ajmer is one of the major commercial hubs and oldest city of Rajasthan, often referred as the heart of Rajasthan it is considered as a heritage city.
Located in the northwest region of India and surrounded by the Aravali Mountain range, Ajmer is home to a number of tourist attractions.
The city is accessible through air and rail routes, the nearest Kishangarh airport is 25 km from the city center and Ajmer Junction is situated in the city which was built during the colonial period.
Rail Land Development Authority (RLDA) is a statutory authority under the Ministry of Railways for the development of Railway land.
It has four key mandates as a part of its development plan, namely leasing commercial sites, colony redevelopment, station redevelopment and multi-functional complexes.
During the last financial year, RLDA has leased out 22 sites which are situated at Bangalore (Karnataka), Liluah and Salt Golah (Howrah), Nizamabad (Telangana), Egmore, Victoria Crescent and Ayanavaram (Chennai), Bhopal (MP), Ludhiana (Punjab).
Furthermore, Abu Road and Rana Pratap Nagar (Rajasthan), Bhusawal (Maharashtra), Bareilly and Gorakhpur in UP, Katra (J&K), Muzaffarpur (Bihar), Sirsa (Haryana) and Kannur (Kerala) for a cumulative lease premium of Rs 2,290 crore.
These include Railway assets valuing approximately Rs 333 crore to be developed in Bangalore, Bhopal, Egmore (Chennai), Bareilly, Ludhiana, Muzaffarpur, Kannur and Barrack colony (New Jalpaiguri) Railway colonies.
RLDA has recently awarded the station redevelopment works for Somnath, Muzaffarpur, Lucknow, Jodhpur, Visakhapatnam, Nagpur, Ajni, Surat, Chandigarh and Delhi Cantt railway stations, amongst others to be redeveloped on EPC (Engineering Procurement and Construction) model.