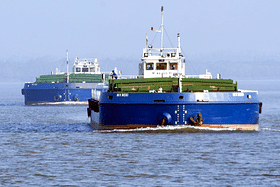 The Uttar Pradesh government has identified eight rivers — namely Yamuna, Gomti, Assi, Ghaghra, Rapti Betwa, Chambal, and Varuna — as potential inland waterways for the movement of goods and people.
With this, the state is set to harness the untapped potential of its extensive river network and strengthen the transport sector.
Inland water transport is considered the most cost-effective mode of transportation, especially for bulk commodities like coal, iron ore, cement, foodgrains, and fertilisers.
The move is in line with the Centre's Maritime India Vision (MIV) 2030 that envisages increasing the share of inland water transport to five per cent by 2030, which stands currently at two per cent in India's modal mix, as per reports.
Works on achieving the target has already started in UP and the government recently announced to establish an Inland Waterways Authority to promote and regulate water transport in the state.
To oversee the development and management of these waterways, the dedicated authority will comprise officials from the transport, irrigation, and tourism departments.
However, the initial work to survey prospective waterways has been assigned to transport department officials.
Transport Minister Dayashankar Singh stated, "The plan is in the initial survey phase. The modalities of it will be decided as per the survey and the feasibility on different rivers. However, we are moving ahead with the intention to realise the aim to strengthen and expand the waterways,", reports Business Standard.
The Ganga Vilas luxury cruise, which recently embarked from Varanasi and travelled more than 3,200 km across 27 river systems in India and Bangladesh, also gave a significant pushed to utilise waterways for public transportation.
"Apart from looking at the waterways' potential to ferry cargo, we are also planning to boost public mobility, both for short and longer distances. The transport department will run water taxis in the rivers where it is feasible. We will get further clarity on this once the survey is completed," said Singh.
After the survey, there will be focus on fairway development to guarantee the minimum required depth for the smooth navigation of water taxis and cargo boats.
As part of the MIV 2030 initiative, work is currently underway to achieve a minimum available depth of 2.5 m in the Barh-Ghazipur section and 2.2 m in the Ghazipur-Varanasi stretch of the Ganga, which falls under National Waterway-1.
This project is being carried out by the Inland Waterways Authority of India (IWAI), with technical and financial support from the World Bank.