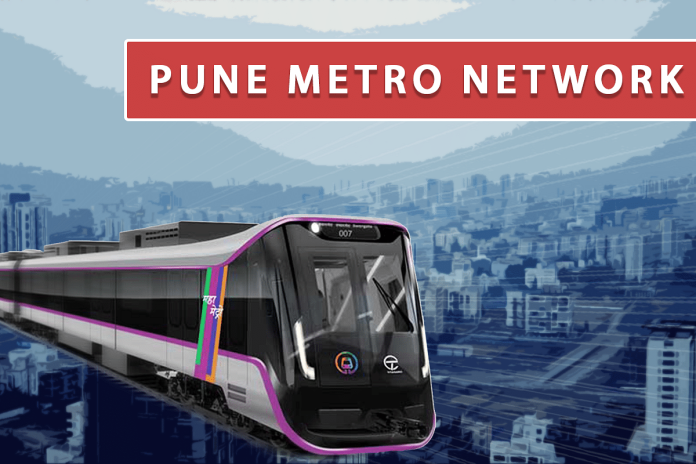 While the metro system serves as a backbone for mass transit, it is often the ease of accessibility from and to metro stations that significantly influences people's willingness to use public transport.
The recent expansion of the Pune Metro network has resulted in a significant increase in passenger usage, as it now connects key areas of the city.
New sections — namely from Phugewadi to Civil Court (purple line) and Garware College to Ruby Hall Clinic (Aqua Line), commenced operations on 1 August, after the inauguration by Prime Minister Narendra Modi.
This development will open approximately 24 km of the total 33 km network for public use.
Further to this, the remaining close to 10 km of network remains under construction for these lines, which is expected to be operational by the end of 2023.
Pune Metro Map.
While the city's population has displayed a positive trajectory in using the metro, the growing network and demand have prompted authorities to prioritise supporting facilities for the transit system.
Recent reports indicate that the Pune authorities are now focusing on creating parking spaces around metro stations, as high number of commuters, have complained of the parking issue at these stations.
While authorities work on securing parking spaces, it is crucial to recognise the significance of last-mile connectivity with feeder services in enhancing accessibility to this mass transit system.
Pune Metro Identifies Nine Spots For Parking Facilities
The Pune Metro and Pune Municipal Corporation (PMC) have established a committee to identify available open spaces around metro stations that can be utilised for constructing parking facilities.
Pune Metro spokesperson Hemant Sonawane said, "Pune Metro does not have separate areas for parking private vehicles. They are planned in association with the civic body. Pune Metro has already written to the civic body seeking parking spaces near stations," reports Indian Express.
Further, officials of the Maha Metro, which is implementing the Pune Metro project, said they are speeding up the process of making parking arrangements for commuters on both corridors of the Pune Metro in Pune and Pimpri-Chinchwad.
MahaMetro official said, "Now, wherever there are Metro stations, we are developing multi-modal hubs. So far, we have managed to get space at nine locations on both corridors where we are developing parking infrastructure."
"On all these nine spaces, we are going to develop parking infrastructure on a pilot basis. In Pune city, it will be developed outside stations like Shivajinagar and the civil court. In Pimpri-Chinchwad, it will be developed outside PCMC headquarters and at Vallabhnagar. These are not reserved lands but they remained vacant while developing Metro stations," the official added.
Currently, the emphasis of the parking spaces is primarily on catering to the needs of two-wheeler commuters.
The authorities believe that individuals using four-wheelers will gradually transition to the metro service.
While this transformation is expected to be a longer process, the initial anticipation is that two-wheeler users will make the switch to the metro first, followed by a gradual adoption by four-wheeler owners.
Thinking Forward To Prioritise A Robust Last-Mile Connectivity System
While the creation of parking facilities poses challenges due to land acquisition and time constraints in a land-limited city, authorities could redirect their focus towards a long-term plan in enhancing infrastructure for last-mile connectivity through multiple modes.
This refers to the final stretch of a commuter's journey from their home or workplace to the metro station, and vice versa.
While the metro system serves as a backbone for mass transit, it is often the ease of accessibility from and to metro stations that significantly influences people's willingness to use public transport.
Amit Paranjape, a technology entrepreneur who closely tracks infrastructure, explains that due to land scarcity, having large parking spaces under the metro stations becomes difficult.
Thus, there is a pressing need to prioritise last-mile connectivity solutions — which includes adding feeder buses, autos and other smaller public transportation modes that will connect the surrounding areas with the metro.
Paranjape believes that not only for Pune but also for all other cities, the metro network can reach its maximum potential by integrating additional infrastructure for last-mile connections.
The expansion of the metro corridor will unlock economic potential in the surrounding land areas.
Apart from the existing network, a Line-3 in the city is also undertaken by the Pune Metropolitan Region Development Authority and the Tata-Siemens partnership.
The 23 km, fully elevated network will connect the Hinjawadi IT park and several newly-developing areas and will serve a significant number of Pune employees for daily commute.
This network, along with others, also presents opportunities for transit-oriented development, which involves establishing multi-modal connections throughout the city.
Integrated networks of shuttles, cycle-sharing systems, and pedestrian pathways that complement the metro service can minimise the inconvenience and time wasted during transfers.
As Pune experiences growth, addressing transportation challenges through prioritising smooth last-mile transport connectivity becomes essential to ensure that a wider population can easily access the metro system.
This robust approach will also encourage a shift from private vehicles, thereby mitigating traffic congestion in a swiftly expanding city like Pune.
Also read: How Pune Metro Is Expanding Its Horizons As The New Routes Promise Better Transit Utility For The City