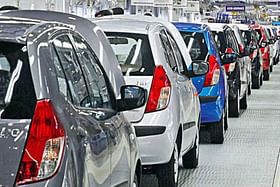 The Ministry of Road Transport and Highways has released draft provisions for the Cyber Security and Management System (CSMS) applicable to specific classes of four-wheelers, including both passenger and commercial vehicles.
The aim is to safeguard their operations against potential cyber threats.
The ministry in its report titled 'Approval of vehicles with regards to Cyber Security and Cyber Security management system', has proposed Automotive Industry Standard for approval of vehicles equipped with CSMS and invited the comments from the stakeholders till 5 December.
The report defines "cyber security" as the condition in which road vehicles and their functions are protected from cyber threats to electrical or electronic components.
Further, CSMS means a systematic risk-base approach defining organisational processes, responsibilities and governance to treat risk associated with cyber threats to vehicles and protect them from cyberattacks.
According to the draft report, the application for approval of a vehicle type with regard to cyber security shall be submitted by the vehicle manufacturer or by their duly accredited representative.
Test agencies shall carry out the assessment of the manufacturer and will issue a Certificate of Compliance for CSMS, said the draft.