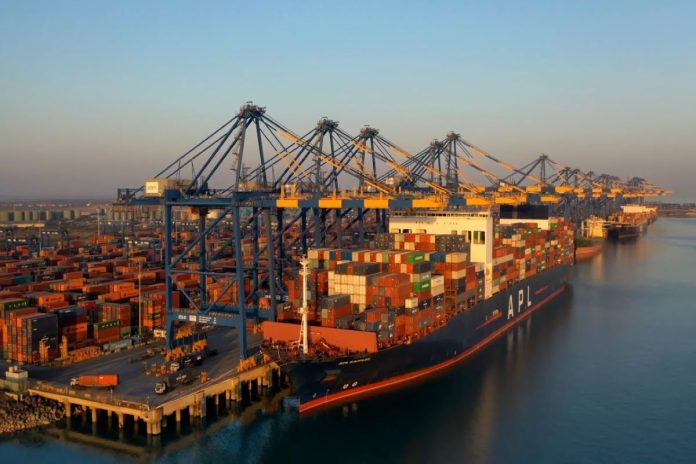 Steps are being taken to develop India's ports for them to be counted among the top 25 in the world, according to the Ports, Shipping, and Waterways Minister Sarbananda Sonowal.
Chairing a midterm review meeting, Sonowal said, "India is standing at an extremely important stage towards becoming a global leader of maritime sector."
The meeting was held to determine a comprehensive approach towards the swift and smooth execution of the 'PM Maritime Amrit Kaal Vision', with the ultimate goal of making India the global maritime leader by 2047.
Sonowal urged ports to make optimal efforts to secure a spot in the top 25 World Port Ranking, emphasising that remaining competitive requires improving positions in the annual global ranking published by the World Bank.
All ports and agencies under the ministry were directed to showcase their "green initiatives" on international and relevant forums.
Major programmes of the ministry, including its flagship programme Sagarmala, as well as other prominent programmes, were reviewed.
The meet also reviewed the progress of 162 projects with an investment outlay of Rs 1 trillion.
Sonowal said that under the dynamic leadership of Prime Minister Narendra Modi, the Maritime Amrit Kaal Vision, 2047, was launched exactly a month ago at the Global Maritime India Summit in Mumbai.
"The vision document is a manifestation of Modiji's vision towards enabling India's ports, empowering shipping sector, and rejuvenating waterways, with an ultimate goal to turn India into a global power in the maritime sector. We are working to make our ports break into the top 25 ports of the world," he said.
"We must stick to the 'Panch Karma Sankalp' while aiming to execute the letter and spirit of the Vision Document towards realising the goal of India becoming the global leader in the maritime sector by 2047," Sonowal further said.
The meeting opens up an opportunity to review the holistic progress made under the 'Panch Karma Sankalp' announced during the 'Chintan Shivir' in May 2023.
"Following on the 'Panch Karma Sankalp,' we are moving closer towards building 'Made In India' Green Tugs at Cochin Shipyard, opening a new vista of opportunities for export. We have also received encouraging response to set up Green Hydrogen Hubs at Deen Dayal Port and VO Chidambaranar Port," he added.
The Deendayal Port Authority is setting up Green Hydrogen Hubs, in which the port has received responses from 13 prospective developers.
VO Chidambaranar Port Authority has earmarked 500 acres of land for the Green Hydrogen Hub.
In fiscal year (FY) 2022-23, a total of 177 projects were completed at major ports, while currently 162 projects are at various stages of implementation with an investment exceeding Rs 1 lakh crore.
Currently, over 800 projects, worth more than Rs 5.74 lakh crore, are being monitored under the Sagarmala Programme for implementation by 2035.
Of these, 237 projects worth Rs 1.22 lakh crore have already been completed, 262 projects worth Rs 2.44 lakh crore are under implementation, and 310 projects worth Rs 2.08 lakh crore are under various stages of development.
Further, under holistic development of coastal districts, a total of 567 projects with an estimated cost of around Rs 58,000 crore have been identified.
Over the last nine years, the number of seafarers has increased by 140 per cent.
The Directorate General of Shipping had approximately 1,699 women seafarers registered in 2014, which has now increased in 2023 to 10,440, reflecting an increase of 514 per cent in the registered women Indian seafarers.
Over the years, the Indian maritime sector has witnessed a remarkable transformation because of the strong efforts of the government, industry stakeholders, and the unwavering support of our maritime community.
The ministry has embarked on a journey of progress, embracing technological advancements, improving infrastructure, enhancing efficiency, and fostering a conducive business environment.