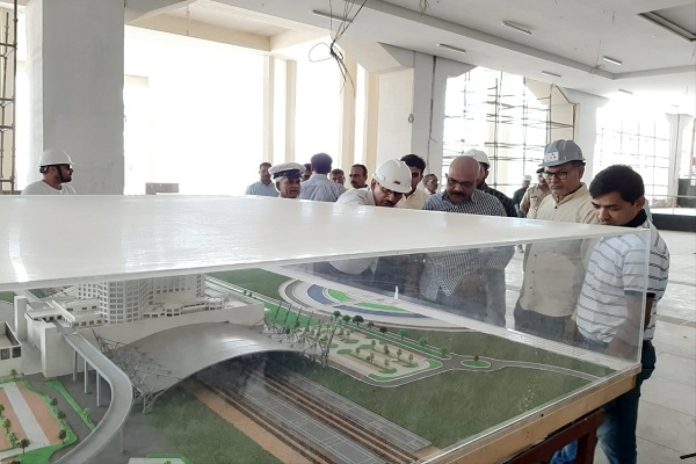 The Indian Railway Stations Development Corporation (IRSDC) and two Central Public Sector Enterprise (CPSE,) namely EPIL and Bridge & Roof, have signed a Memorandum of Agreement (MoA) on Thursday (Jun 20) for redevelopment of 14 railway stations, Rail Analysis India reported.
In October last year, the Union government approved IRSDC as the nodal agency and main project development agency for redevelopment of railway stations through simplified procedures adapting various business model and for longer lease tenure of up to 99 years.
Redevelopment of major stations across the country is planned to be executed by leveraging commercial development of land and air space in and around the station. This program will help provide state-of-the-art amenities for passengers, generate additional revenues.
Among the 14 railway stations included in latest plan for station redevelopment include Kolkata Terminal, Kanpur Central, Kalyan Junction, Ludhiana, Hyderabad and Udaipur City.
EPIL and Bridge & Roof will prepare DPRs (Detailed Project Reports) of the 14 stations for their development/ redevelopment and act as project management consultant to IRSDC for implementation of the station redevelopment programme.
4 other CPSUs— IRCON, RITES, NPCC and MECON, have also been roped in for the station development projects.
The contracts for five station redevelopment projects have already awarded by the Indian Railway Stations Development Corporation (IRSDC) and NBCC India – Habibganj (Bhopal), Gandhinagar (Gujarat), Gomti Nagar (Lucknow), Charbagh (Lucknow) and Puducherry.
NBCC has already started work on the two Lucknow stations.
While Habibganj has been awarded under the Public-Private Participation (PP) mode, the other four stations have been awarded based on the EPC (Engineering, Procurement and Construction) mode.
Habibganj and Gandhinagar are already in advanced stages of implementation, while the remaining three (two in Lucknow and one in Puducherry) have been awarded in FY2019.
The railway station of Surat is being redeveloped as a Multi-Modal Transportation Hub (MMTH) at a cost of Rs. 650 crores. The unique factor of this station is that it will have connectivity to people using multiple modes of transport, such as railway, long-distance bus, city bus, BRTS and HMC buses auto, taxi, non-motorised vehicles, the proposed urban metro railway, etc.
After an excruciatingly slow pace of work, the station development program has gained considerable traction in the past year and is expected to gather further momentum with multiple station redevelopment projects in the pipeline.
As per the original plan conceptualised by then union railway minister Suresh Prabhu, 'A1' and 'A' category stations, identified by Zonal Railways through Cabinet approved procedures and for a lease period of 45 years, were supposed to be redeveloped. However, insufficient interest was visible amongst the prospective bidders due to various issues including multiple sub leasing, simplified bid procedures, etc.
Therefore, an improvised and simpler program design including these issues and under a specialised executing agency (IRSDC), incorporating suitable structural, process and parameters changes, was adopted to revamp the station redevelopment program.