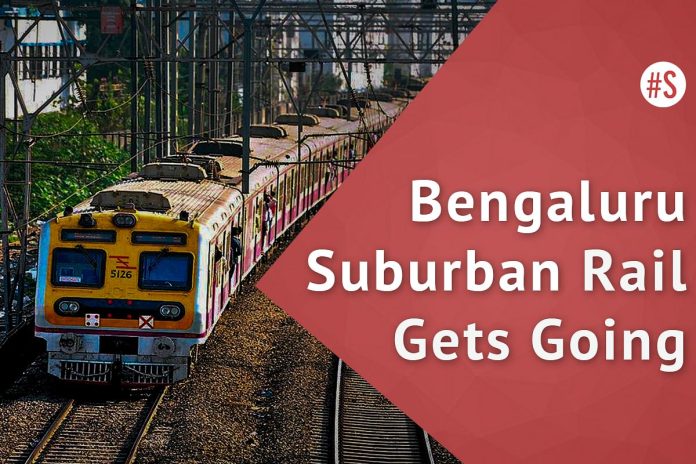 In an effort to streamline the Bengaluru Suburban Railway Project (BSRP), a tripartite agreement was formalised recently, involving the government of Karnataka, Indian Railways and K-RIDE.
Rail Infrastructure Development Company (Karnataka) Limited (K-RIDE) is a joint venture of the government of Karnataka and the Ministry of Railways. It is tasked with the implementation of a 148 km line suburban network in the city that will comprise four corridors.
K-RIDE emphasised that the agreement delineates the responsibilities and coordination methodologies among the involved parties.
Described as "critical", the agreement is deemed essential for the successful completion of this extensive project.
The primary objective of the agreement is to establish overarching principles of cooperation and modalities that will guide the roles of the government of Karnataka, the Ministry of Railways and K-RIDE in the effective implementation of the project, according to K-RIDE.
Additionally, the agreement fulfils mandatory requirements for entering loan agreements with bilateral funding agencies, as per the Deccan Herald report.
This agreement is instrumental in the comprehensive borrowing process of 800 million euros (Rs 7,438 crore) from the German Development Bank KfW and the European Investment Bank for the BSRP, as stated by K-RIDE.
K-RIDE authorities anticipate initiating and finalising tenders for the civil works of corridors 1 and 3, depots, and systems work in the near future.
The existing BSRP project plan comprises four corridors with a total length of 148.17 km.
These corridors include KSR Bengaluru City to Devanahalli (Corridor-1 – 41.4 km), Baiyappanahalli to Chikkabanavara (Corridor-2 – 25.01 km), Kengeri to Whitefield (Corridor-3 – 25.01 km), and Heelalige to Rajanukunte (Corridor-4 – 46.25 km).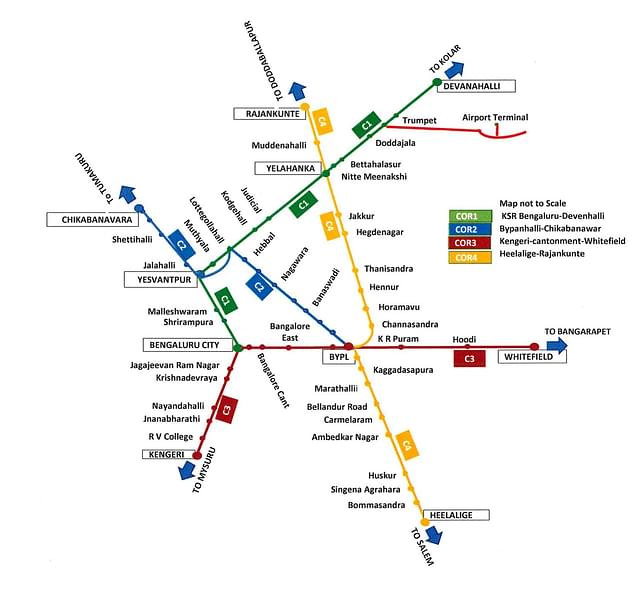 Proposed BSRP Plan (KRIDE)
Currently, groundwork has commenced only on the Mallige Line, with the first piers taking shape at Hebbal. L&T has emerged as the lowest bidder for the civil contract for the Kanaka Line, and K-RIDE is expected to award the contract soon.
On 20 June, Prime Minister Narendra Modi laid the foundation for the suburban rail project in the city. He promised that the project would be completed in 40 months.
Bengaluru Suburban Rail Project will link Bengaluru to its satellite townships, suburbs, and surrounding rural areas through a rail-based rapid-transit system network.