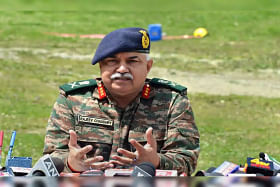 India has speeded up the pace of infrastructure construction in its border areas, and is poised to overtake China in the next two to three years.
Additionally in the past two to three years, India has also completed 295 projects worth Rs 11,000 crore, Border Roads Organisation (BRO) Chief Lt General Rajeev Chaudhry said in an interview with ANI.
Here is what the BRO Chief said about the increased pace of construction in border areas, after the standoff with China along the entire line of actual control (LAC) started in 2020.
Pointing out that China started its infrastructure development effort much earlier, the General said that India's approach to infrastructure development on the 3,488 km long border was a 'little bit defensive'.
However, he emphasised that the present government has changed this mindset and policy, providing the necessary budget, vehicles, and machinery to accelerate work along the LAC.
"The present government has changed this thinking and policy and supporting us with a budget along with all other vehicles and machines to accelerate our work all along the LAC," he said.
Over the years, the central government has significantly increased the budget allocated for infrastructure development along the LAC.
In 2008, the budget was around Rs 3,000 crore, which increased to Rs 5,000-6,000 crore in 2017. By 2019, it had risen to Rs 8,000 crore and continued to increase.
In the past year, approximately Rs 12,340 crore was spent on this development.
Lt Gen Chaudhry stated that the government is taking proactive measures to enhance infrastructure along the border.
This has strengthened India's position, and in the next few years, India may surpass China in terms of infrastructure development in areas such as roads, bridges, tunnels, and airfields.
He also revealed that in the past 2-3 years, a total of 295 projects worth Rs 11,000 crore have been completed.
He stated that by September of this year, a total of 90 projects worth approximately Rs 2,940 crore will be completed and dedicated to the nation. These projects aim to further improve the infrastructure along the border.
On 12 September, Defence Minister Rajnath Singh will visit the Jammu region to inaugurate and dedicate these 90 projects.
This includes 22 roads, 63 bridges, a tunnel in Arunachal, two strategic airfields (Bagdogra and Barrackpore), and two helipads (one in Rajasthan and one in Ladakh between Sasoma-Sasser La).
The government's main focus is on the border areas of Ladakh and Arunachal, he said.
Lt Gen Chaudhry stated that out of the 90 projects, 26 are in Ladakh and 36 are in Arunachal. The aim is to surpass China's progress within the next two to three years.
Furthermore, an additional 60 projects are expected to be completed by December this year, increasing the tally of completed projects in 2023 to approximately 150-160.
Lt Gen Chaudhry expressed that the total cost of these projects will be approximately Rs 6,000 crore.
This development in the border areas strengthens the security measures of the army, allowing them to be deployed closer to critical situations if necessary.
According to Chaudhry, significant progress has been made in the developmental works along the India-China border.
Chaudhry further emphasised that these completed projects will provide last-mile connectivity to the most forward posts and ITBP post. Additionally, they will contribute to the socio-economic development of remote villages that were previously disconnected.