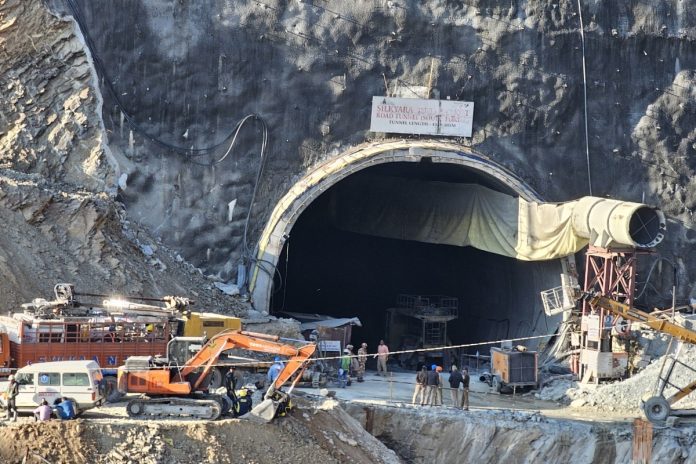 Rescue operations in Uttarakhand's Uttarkashi district to evacuate 40 construction workers trapped under debris in a collapsed tunnel entered its fifth day today.
These workers have been trapped inside the tunnel for over 96 hours, with their lives hanging in the balance.
On 12 November, the Silkyara Tunnel project suffered a collapse, trapping 40 construction workers within the rubble.
Efforts are being made to provide the trapped workers with essential supplies of food and medicines.
Rescue teams are maintaining regular communication with the workers to keep their spirits high and their hope alive.
A significant turning point in the rescue operation occurred with the deployment of an 'American auger' machine inside the tunnel. This specialized equipment is expected to expedite the clearing process and bring the trapped workers closer to safety.
The 'American auger' machine arrived at the Chinyalisaur airport, which is located over 30 kilometers from the collapsed tunnel on the Char Dham pilgrimage route, in disassembled components. The plan involves using the machine to excavate a passage through the debris of the collapsed tunnel section.
Once the passage is clear, 800-mm and 900-mm diameter segments of mild steel pipes will be installed, one at a time.
Upon completion of this procedure, the workers trapped on the other side of the rubble will be able to crawl to safety.
Yesterday, the rescue operations were hindered by a fresh landslide after over 70 hours of relentless operations.
Rescue teams had invested hours in constructing a platform for the 'American auger,' however, the fresh landslide forced them to disassemble the machine and restart platform construction.
The under-construction tunnel is part of the ambitious Char Dham project, a national infrastructure initiative to enhance connectivity to the Hindu pilgrimage sites of Badrinath, Kedarnath, Gangotri, and Yamunotri.