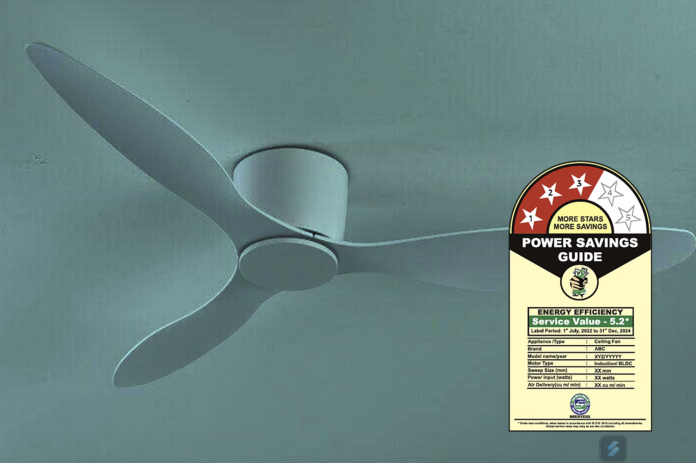 The ceiling fan market in India underwent a massive churn last week, when Union Power Minister R K Singh inaugurated the Energy Efficient Fans Programme (EEFP).
The initiative by the state-owned Energy Efficiency Services Limited (EESL) aims to deploy a total of 10 million energy-efficient ceiling fans throughout the country.
Ceiling fans are a common fixture in Indian homes, offering a diverse selection of colours, designs and sizes, and they now incorporate energy-efficient features. The recent policy emphasis highlights the ceiling fan's inconspicuous yet substantial role in India's energy transition.
The Ubiquitous 'Fan'
In India, households, both rural and urban, across all income categories, heavily rely on fans for cooling and ventilation purposes, with nearly 40 million units sold annually.
According to a recent survey, even among homes that utilise room air conditioner for thermal comfort, approximately 70 per cent tend to use fans simultaneously. Fans are also widely utilised in small to mid-commercial segment.
The National Family Health Survey (NFHS) data on 'household possession' reveal that 88.3 per cent of households own an electric fan. The ownership varies, with 96.4 per cent of urban households and 84.3 per cent of rural households having fans, reports NFHS-5, the fifth round of the household survey held between June 2019 and April 2021.
Households account for over a quarter of India's overall electricity usage and ceiling fans, used by around 90 per cent of households, contribute to approximately 40 per cent of total residential electricity consumption.
It is projected that the share of fans in household energy usage will remain substantial at 32 per cent by 2030.
Adding to the intrigue, the sheer volume of fans used in India's hot and humid climate means their annual energy consumption is marginally less than that of room air conditioners, as indicated by the India Cooling Action Plan (ICAP) 2019.
Moreover, despite a rise in the penetration of room air conditioner in households, a significant percentage of households might not be able to afford air conditioning for thermal comfort even in the next 10-20 years.
With ceiling fan usage set to reach one billion by 2038, on account of rising incomes and higher temperatures, there is a significant potential to reduce energy demand through the promotion of energy-efficient, affordable fans for cooling and ventilation.
Tech Upgrade
Conventional fans, featuring single-phase induction motors, typically consume 70-80 watts (W) of power. However, fan energy consumption has decreased over time as they have incorporated aerodynamic component designs (eg, fan blades), high efficiency motors, and variable-speed controls.
For example, better blade design and the use of copper over aluminium have increased fan efficiency to 45-50 W in three-star fans.
The latest upgrade on the bloc are fans with brushless direct current motors (BLDC motors); this combined with better blade design have led to more efficient fans which consume 30-35 W, while delivering similar airflow.
The BLDC fans, thus, are up to 50 per cent more energy-efficient, require less maintenance, produce less heat and noise and are increasingly equipped with smart features, allowing them to be controlled through mobile apps.
The 'Star Rating' Programme
Given the importance of fans, the Bureau of Energy Efficiency (BEE) included ceiling fans under the ambit of the mandatory star labelling regulations from 1 January this year.
Under the new mandate, manufacturers would have to display the star ratings on their fans. The star rating is dependent on service value (air delivery in cubic metres per minute divided by energy consumption in wattage). The higher the service value, the more energy-efficient the fan is, and the higher the number of stars on its label.
However, the adoption rate of 5-star energy-efficient fans stands at a mere 5 per cent, indicating substantial potential for energy conservation.
The 5-star fans, are more costly compared to standard unrated fans, posing a significant hurdle to adoption in India's price-conscious market.
Why A New Scheme
The EESL's latest scheme tackles two problems at the same time — high prices of '5-Star' fan and residential electricity consumption.
According to the ICAP, replacing ordinary fans of around 70W, with energy efficient ceiling fans of around 50W, "energy saving of 10 per cent-15 per cent will be possible in 2027-'28". Thereafter, mainstreaming of super-efficient BLDC fans of 35W, which is already available in the market, can bring even greater savings, the plan said.
The newer five-star BLDC fans are almost 20 per cent costly vis-a-vis the older induction motors. The demand aggregation for 10 million energy-efficient ceiling fans, will lower their prices by providing economies of scale to manufacturers through regular bulk procurement, akin to the UJALA programme.
The Unnat Jyoti by Affordable LEDs for All (UJALA) launched in January 2015, succeeded in bringing down the retail price of LED bulbs from Rs 310 to Rs 38 in a span of three-four years.
Similarly, by transitioning the entire stock of residential ceiling fans towards super-efficient models, India could save a remarkable 15 per cent of its residential power consumption each year.
Nonetheless, ceiling fans are a more intricate appliance compared to LEDs, and the insights gained from India's LED revolution can benefit the expanding ceiling fan market in the country.