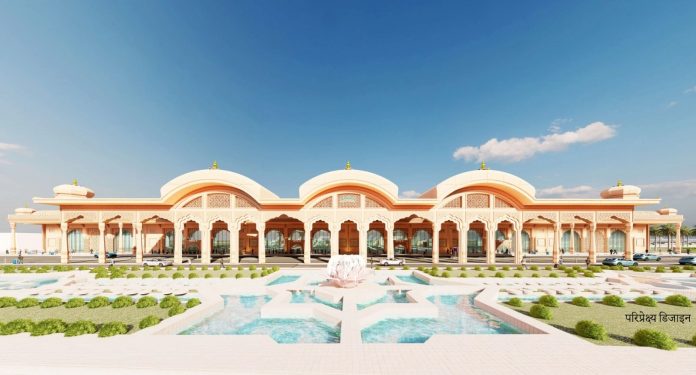 The vibrant cities of Jodhpur and Udaipur are poised to witness the inauguration of a new chapter in their aviation era with the laying of the foundation stone for the state-of-the-art new terminal building by Prime Minister Narendra Modi today (5 October).
To be built at a cost of Rs 480 crore, the new terminal building at Jodhpur will be developed in an area of about 24,000 sqm and will be four times bigger than the current building.
Capable of serving 2,500 passengers during peak hours, this terminal building will have 40 check-in counters and the airport will be able to operate 10 flights per hour. It will cater to 35 lakh passengers annually, improving connectivity and boosting tourism in the region.
Jodhpur airport belongs to Indian Air Force (IAF) and Airports Authority of India (AAI) maintains the civil enclave consisting of a passenger terminal building, apron, link taxiway, and car parking facility.
Presently, Jodhpur is connected to 11 cities by air and the new terminal building will strengthen connectivity within the state and across India, opening doors to more visitors from around the globe.
The new terminal building at Udaipur airport, being built in an area of ​​60,000 sqm at a cost of approximately Rs 887 crore, will be five times larger than the area of ​​the current building.
Udaipur famously known as the City of Lakes, is a globally renowned tourist destination. The city is served by Udaipur Airport, also known as Maharana Pratap Airport or Dabok Airport, which is located at 22 km east of Udaipur.
Equipped to provide services to 4,000 passengers during peak hours, the new building will cater to 50 lakh passengers per year, thereby, boosting tourism in the region.