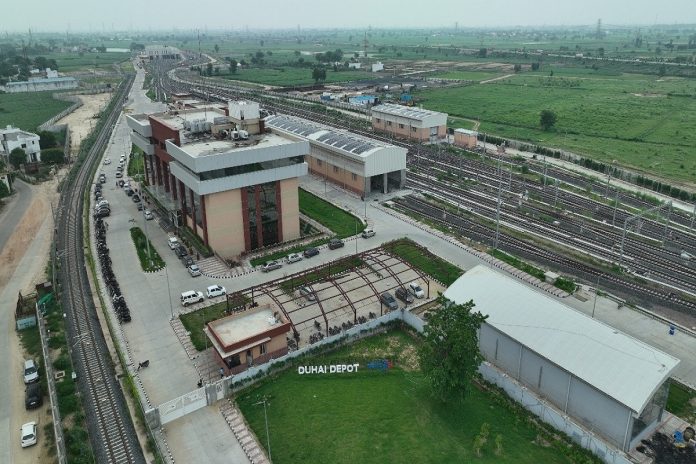 The National Capital Region Transport Corporation (NCRTC) has recently invited tenders to set up a modern farming demonstration centre at the RRTS depot in Duhai.
The facility aims to educate the farmers, residing in the villages along the Regional Rapid Transit System (RRTS) corridor in Ghaziabad and Meerut, on new methods of modern agriculture.
As per the tender, the selected agency will build poly-houses for modern farming demonstration on the Duhai depot land, where information regarding farming techniques based on hydroponics technology will be provided.
The purpose of sharing information about this new technology with the farmers is not only to improve the quality of produce, but also to increase their income as per the government policy.
NCRTC intends to make hydroponics technology accessible to the farmers and make them aware of it.
NCRTC is also organising training programmes for farmers of the region to develop their capacity, enhance their skills and prepare them for the future in farming.
Farmers from villages like Bhud Baral, Kadrabad, Nangla Musa, Asalat Nagar, Kakra, Shahpur, Sara, Kanoja, Sikarikhurd etc., of Ghaziabad and Meerut districts have been trained in the first phase of this training programme.
The implementation of the Delhi-Ghaziabad-Meerut RRTS is expected to improve regional mobility throughout the corridor by connecting remote regions to the national capital. This will enhance the pace of swift urbanisation along the entire corridor.
Farmers usually employ conventional farming methods, which yields lower returns per unit area.
However, with the upcoming urban development, the land available for farming will reduce significantly and the pressure to produce more, to cater for the changed demography, will increase exponentially.
NCRTC understood this changing scenario and the requirements of the farmers of this region and decided to provide them training in modern, high-yield urban farming techniques, that can offer high returns per unit of land.
These new-age farming practices such as poly-house farming, drip irrigation farming, retractable greenhouse farming, hydroponics etc., are not only environmentally and socially sustainable, but also urban farming techniques.
Moreover, unlike traditional farming techniques, they require less water and are not heavily reliant on weather conditions — which can help minimise the impact of adverse weather on crops.
Moreover, these new-age farming techniques are comparatively less labour-intensive. It makes it easier for women to contribute more to it and provides an option for their increased income, leading towards their financial freedom and empowerment.
The increasing demand for nutrient-rich and organic produce in the region creates an opportunity for farmers to improve their livelihoods by selling their quality produce.
NCRTC, through this programme, aims to educate and skill families living in the corridor catchment area about these innovative farming solutions.
This initiative will improve the income and sustained livelihoods of those who take up these opportunities. It will also promote the consumption of healthy and sustainable farm produce by citizens of the national capital region.
In the first exercise in this series of training programmes, more than 100 training sessions are being conducted for around 1,500 farmers residing in more than 50 villages situated along the Delhi-Ghaziabad-Meerut RRTS corridor.
This initiative by NCRTC aims to make a positive impact on the livelihood and overall well-being of the community, which when combined with RAPIDX services, will play a crucial role in the comprehensive growth of the region.