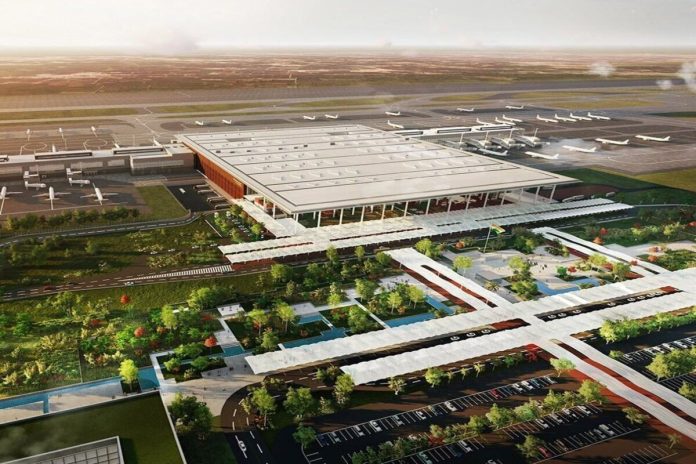 The Yamuna Expressway Industrial Development Authority (YEIDA) is expediting the process of acquiring land for the maintenance, repair and overhaul (MRO) hub, which is a crucial component of the second phase of the upcoming Noida International Airport at Jewar.
The authority has already acquired 814 hectares of land out of the total 1,365 hectares required for this project, reports Hindustan Times.
Arun Vir Singh, the chief executive officer of Noida International Airport Limited (NIAL) and YEIDA, stated, "We have put the work of the MRO project on the fast track because we are likely to issue a global tender by 20 October to finalise a company that will develop and operate this mega project. Part of the Noida International Airport, it is likely to become operational next year."
Once the global tender is issued, the development process of the MRO hub is expected to take 2-3 years, following all the necessary procedures.
The Uttar Pradesh government aims to develop the Noida airport as a significant hub, not only for airline operations and cargo transfers but also as a centre for MRO services.
Last year, the MRO policy was approved by the Uttar Pradesh cabinet in order to facilitate the establishment of the facility at the airport.
MRO, refers to the activities involved in maintaining, repairing, and overhauling aircraft, aircraft components, and systems to ensure their airworthiness and safe operations. It is an essential part of the aviation industry.
This is particularly important as there is currently a lack of a major MRO facility in the country. There are small MRO facilities but the country is yet to have a massive facility on the lines of Singapore or Colombo.
In Swarajya's earlier report, Singh explained, "Currently, to fulfil maintenance and repair needs, these aircraft have to go to other countries such as Singapore and Dubai. MRO facility is to cater to the domestic flight inventory, which is expected to increase significantly in the coming years. With around 1,600 aircraft orders, the total capacity is projected to reach 2,500 aircraft by 2030."
"We are talking to big companies like Airbus, Boeing and the authority will take out expression of interest (EOI) for establishing an MRO," he added.
The administration plans to acquire 1,365 hectares of land from various villages, including Jewar Bangar, Madalpur, Faileda, Karauli, Tirthali, Dhanpura and Mahndipur.
YEIDA has already distributed Rs 2,800 crore in compensation for the 814 hectares of land acquired. The distribution of compensation for the remaining land is currently underway to expedite the acquisition process, added Balram Singh, additional district magistrate of Gautam Budh Nagar.
This hub is expected to attract investors from around the world and will have a positive impact on job creation and the local economy in the region.