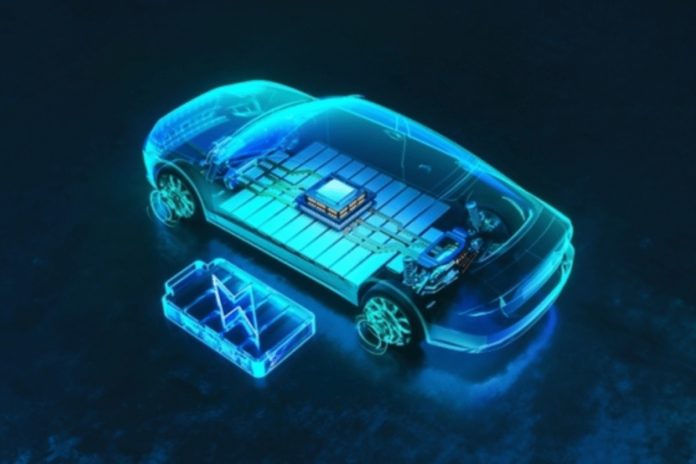 Beijing, last week, unveiled plans to restrict exports of graphite — a mineral crucial to the manufacture of batteries for electric vehicles (EVs) — on national security grounds.
The announcement comes just days after the United States imposed additional controls on the shipments of advanced computing integrated circuits that can be used to produce semiconductors.
The new standards are set to take effect on 01 December and will require Chinese exporters to acquire permits for overseas shipments of two types of the material, including "high-purity, high-hardness and high-intensity synthetic graphite material and natural flake graphite and its products".
China has been embroiled in a tech war with the United States and its allies in Europe and Asia over access to advanced chips and chipmaking equipment. In July, Beijing imposed export restrictions on two obscure yet crucial metals — gallium and germanium.
The export control came in the aftermath of the Dutch government announcing measures that prevented ASML Holding NV — a company with a near-monopoly on the machines needed to make the most advanced semiconductors — from selling some of its machines to China.
Why Graphite Matters
Lithium-ion battery (LIB) have been the standard way of powering portable or mobile electronic devices and machines. As the world transitions from fossil fuels, they are seen as an important step for use in electric cars and home batteries for those with solar panels.
Graphite, a soft form of carbon, may seem dull compared with powerful silicon. But it is commonly used in anodes, or the the negatively charged portion part of the battery, because of its relatively low cost, high energy density and stable structure.
The grey material is the largest EV battery component by weight, with each vehicle on average using 50-100 kg of the material in its battery pack for the anodes. That's about double the amount of lithium in an EV battery.
Graphite for batteries can be produced either from mined material, which is called "natural" material, or in a "synthetic" process using petroleum feedstocks, which helps the cell charge quicker and last longer but is more expensive to produce.
This is where China's dominance of the global supply chain comes into play.
China is the world's leading graphite producer, providing an estimated 67 per cent of global supplies of the natural form, according to the U.S. Geological Survey (USGS). Further, Chinese firms refine about 90 per cent of the world's graphite, giving them an unparalleled leverage.
In 2022, China produced 850,000 metric tonnes of natural graphite, according to the USGS. That total made China by far the world's largest producer; Mozambique, which ranked second, produced 170,000 metric tons.
Further China generated almost 70 per cent of the worlds' synthetic graphite last year, according to Benchmark Mineral Intelligence (BMI), indicating Beijing's stranglehold.
How Export Control Plays Out
To be sure, this is not the first time China has used graphite as an economic weapon. Since 2020, following a minor diplomatic dispute with Sweden, Chinese businesses have discreetly been prohibited from exporting graphite to their Swedish partners.
The latest restrictions represent a significant departure from previous fragmented attempts.
Unlike a complete export ban, mandatory export licensing doesn't entirely disrupt China's thriving domestic graphite industry, which has substantial overseas sales – Japan, the United States, India, and South Korea are among the primary purchasers of graphite from China.
Additionally, it empowers the authorities to selectively focus on buyers as they see fit, making it the preferred instrument in China's economic conflict with the United States.
The export control action offers a glimpse of new tactics by Beijing, which is even reflected in the State-owned media with one such publication describing Beijing's move as "just and righteous".
Nonetheless, it's worth noting that China may be employing this export control system more as a means of geopolitical signaling than as a simple retaliatory tool.
"It could also be true that, similar to the gallium and germanium controls, China is initiating new licensing requirements but continues to facilitate most—if not all—exports under a presumption of approval. This would indicate Chinese use of controls as a geopolitical signaling device rather than a rote retaliation tool"' writes Emily Benson, senior fellow at the Center for Strategic and International Studies (CSIS) in Washington.
Supply Diversification
The supply chain weaponization is a "very useful reminder" of the "urgency of de-risking from China" on critical resources.
"Regardless, policies like the graphite controls crystallize the utility of the friendshoring agenda —moving supply chains to jurisdictions that do not pose serious geopolitical risks", says Benson.
Although China currently leads in graphite production, there are alternative sources available to secure an ample supply. As per the USGS, Turkey (27.3 per cent) and Brazil (22.4 per cent) collectively account for half of the world's natural graphite resources. China ranks third with 16 per cent, followed by Madagascar (7.9 per cent), Mozambique (7.6 per cent), Tanzania (5.5 per cent), and Russia (4 per cent).
A scarcity of graphite could pose challenges for electric vehicle (EV) manufacturers globally, especially during a period of surging consumer interest in EVs.
In 2020, the World Bank projected a potential 500 per cent increase in graphite demand over the next three decades as EVs and various other clean energy technologies gain broader acceptance.
While the impact of China's control policies will be visible in due course of time, any prolonged supply distress will greatly impact many countries' decarbonisation plans.
"A major risk in this economic security escalation is that China's controls on raw materials seriously disrupt the ability to produce critical, emerging, and green technologies"', notes Benson.