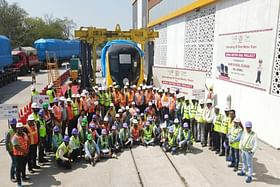 The Agra Metro successfully completed its first test on the 700 metre long test track, inside the Agra Metro depot, on Wednesday (3 May).
The test run will continue for another two months, during which a total of 20 tests including signalling, electrical system and safety will be checked. Once the test run is over, the metro train will be put on track for the trial run.
The Uttar Pradesh Metro Rail Corporation (UPMRC) has planned to roll out the first metro train on the 6-km Priority corridor from Taj East Gate to Jama Masjid by March 2024.
Third Rail System
In a first for the project, the Agra Metro train ran on its own power (electricity), created through the third rail system.
It is a kind of third rail running parallel to the track marked with yellow markings.
Third rail systems are a means of providing electric traction power to railway trains, and they use an additional rail (called a "conductor rail") for the purpose. The trains have metal contact blocks called "shoes" which make contact with the conductor rail.
There are three standard and proven systems of electric traction for use in metro lines, viz, 750 V DC third rail, 1500 V DC overhead catenary and 25 kV AC overhead catenary system.
Presently, all these three systems are in use in India (750 V dc third rail in Kolkata Metro, 1500 V dc catenary in Mumbai suburban of Central & Western Railways and 25kV ac catenary in Delhi Metro & Indian Railways).
"There will be no overhead equipment for the Agra Metro Rail Project and the power derivation will be easier and aesthetic. The overhead equipment has a tendency to trip when it comes in contact with kites etc. There will be no such problem with the third rail system. The metro system will be 'unobtrusive' and blend seamlessly with the skyline of the city," a press statement issued by public relations office of the UPMRC, read.
Two Routes
The 29.4 km Agra Metro has two corridors with 27 stations.
The 14 km first corridor between Taj East Gate and Sikandra is now under development and has 13 stations — six elevated and seven underground.
The second corridor to be built between Agra Cantt and Kalindi Vihar in Agra City will be 15.4-km-long and will be completely elevated with 14 stations.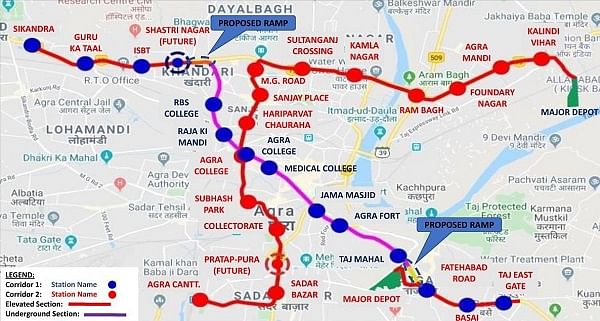 The work on the Priority corridor which forms part of Corridor 1 is currently at advanced stage of completion. It has three elevated metro stations — Taj East Gate, Basai and Fatehabad Road along with three underground metro stations — Taj Mahal, Agra Fort and Jama Masjid.
The civil work-related to the elevated stretch was completed when the last U-Girder was erected on 13 March. Similarly, the three elevated stations and the train depot at PAC are also ready.
Further, the tunneling work on the Priority corridors' 3 km underground section between Taj Mahal and Jama Masjid is also currently underway.