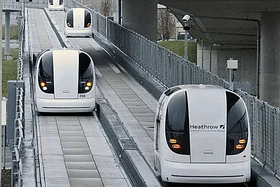 The Yamuna Expressway Industrial Development Authority (YEIDA) has approved the bid document for the pod taxi project, which aims to connect Sector-21 Film City to the Jewar airport site — through small, automated cars that run on a specially built guideway.
Additionally, the revised detailed project report (DPR) was also approved, as per Hindustan Times report.
Officials familiar with the situation indicated that construction on the pod taxi network will commence after the state government approves the revised DPR and bid document.
On Wednesday, YEIDA officials met with the Indian Port Rail and Ropeway Corporation Limited (IPRRC), a central government agency, to discuss the technical aspects of this project.
Following the meeting, the revised DPR and bid document were finalised to select the company that will build the project.
IPRRC was engaged by the authority in March 2021 to devise a DPR for the pod taxi project.
"IPRRC revealed information about pod taxi projects in South Korea, London, and Abu Dhabi. We proposed that IPRRCL incorporate the best practises from these three countries. They have done so, and we have revised the DPR to make it a successful project, the first of its kind in India. In addition, we have finalised the bid document, which will aid in the selection of the company that will build this project," said Arun Vir Singh, chief executive officer of YEIDA.
The Rs 810 crore pod taxi initiative was approved by YEIDA in February 2022, however, the Uttar Pradesh government requested that the DPR be revised by the authority.
Singh stated that work at the Jewar site will commence after approval from the state government. The state government may grant approval within the next three to four months.
According to the final DPR, the 12 km route connecting the two megaprojects in the YEIDA area will have 12 stations. The project's draft DPR had earlier suggested 17 stations.
The pod taxi project is planned for completion by 2024, coinciding with the launch of the first phase of Noida airport.