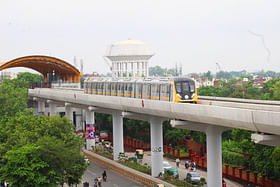 The Agra Metro began its trial run on a 2.93-km elevated portion of the priority corridor on Tuesday.
A team of Uttar Pradesh Metro Rail Corporation (UPMRC) manually operated Alstom MOVIA trainset from the Ramp Area of Agra Metro Depot to Taj East Gate Station, spanning around 3 km.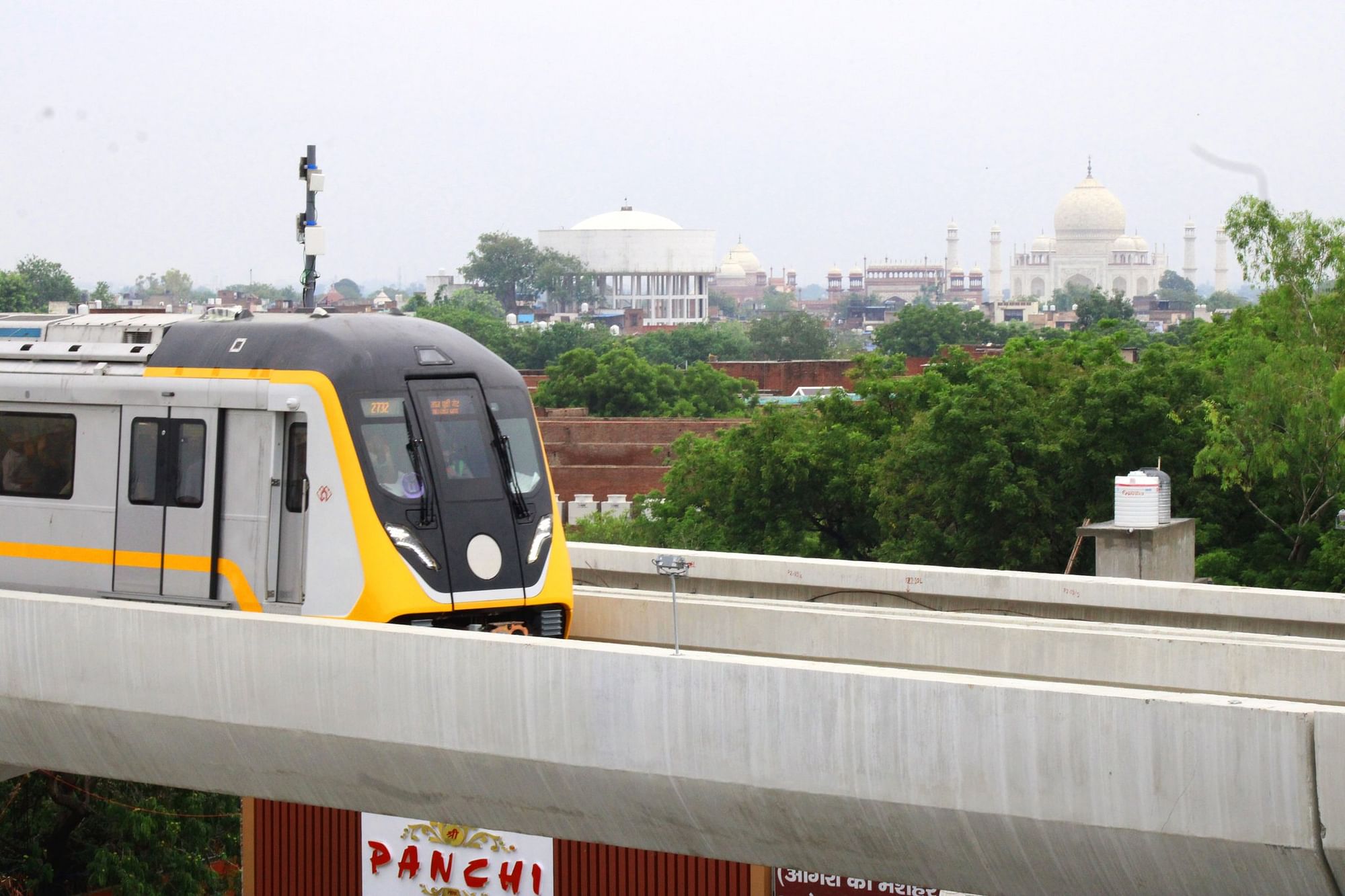 Low-speed train trials were being conducted till now on the ballasted track at the Agra Metro Depot. For the first time, the Agra Metro train moved to Taj East Gate station on a ballastless track, claimed officials on Tuesday.
Sushil Kumar, managing director, Uttar Pradesh Metro Rail Corporation said, "It is a historic day for the people of Agra, as today, for the first time, the train moved successfully on a 3 km-long viaduct, and all train systems and equipment were tested successfully. We are fully committed to beginning metro operations very soon in Agra. We hope to put in sustained efforts to achieve timely commissioning of the Agra Metro Project."
Third Rail System
In a first for the project, the Agra Metro train ran on its own power (electricity), created through the third rail system.
"There will be no overhead equipment for the movement of metro trains. The train in Agra will derive power through a charged third rail running parallel to the track. The metro system will blend seamlessly with the skyline of Agra, which is a heritage city, and its beauty will be preserved by the metro," Kumar said.
There are three standard and proven systems of electric traction for use in metro lines, viz, 1500 V DC overhead catenary and 25 kV AC overhead catenary system and 750 V DC third rail.
The overhead equipment has a tendency to trip when it comes in contact with kites etc, which led to the emergence of the third rail system.
Third rail systems are a means of providing electric traction power to railway trains, and they use an additional rail (called a "conductor rail") running parallel to the track for the purpose. The trains have metal contact blocks called "shoes" which make contact with the conductor rail.
Presently, all these three systems are in use in India (750 V DC third rail in Kolkata Metro, 1500 V DC catenary in Mumbai suburban of Central & Western Railways and 25kV ac catenary in Delhi Metro & Indian Railways).
Two Routes
The 29.4-km-long Agra Metro has two corridors with 27 stations.
The first corridor between Taj East Gate and Sikandra is now under development. The 14-km-long Corridor 1 has 13 stations — six elevated and seven underground.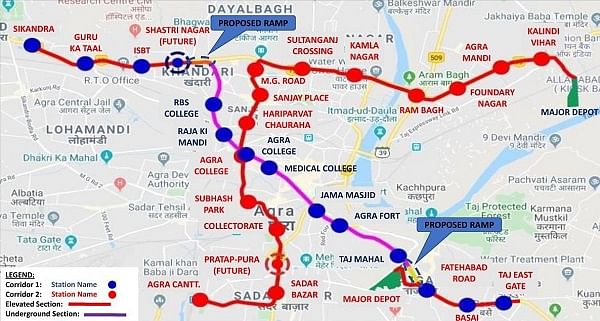 The second corridor to be built between Agra Cantt and Kalindi Vihar in Agra City will be 15.4-km-long and will be completely elevated with 14 stations.
The Uttar Pradesh Metro Rail Corporation (UPMRC) has planned to roll out the first metro train on the 6-km priority corridor from Taj East Gate to Jama Masjid by March 2024.
The priority stretch which is a part of the Corridor 1 has three elevated metro stations — Taj East Gate, Basai and Fatehabad Road along with three underground metro stations — Taj Mahal, Agra Fort and Jama Masjid
While the civil work-related to the elevated stretch is complete, the tunneling work on the Priority corridors' 3 km underground section between Taj Mahal and Jama Masjid is currently underway.