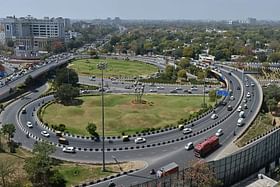 A new proposal has been formulated to address the daily traffic congestion issues at East Kidwai Nagar, AIIMS, Safdarjung and South Extension Market regions in Delhi.
According to a report from Navbharat Times, the plan involves constructing a skywalk over the AIIMS flyover. Additionally, the report states the building a U-turn underpass near Dilli Haat (INA) for people returning from the New Delhi region.
The construction of an underpass loop to access the government housing colonies in East Kidwai Nagar is also planned.
This plan has been given by Public Works Department (PWD) to the Central Public Works Department (CPWD), the authorised organisation for its execution.
According to a senior PWD official cited in an NBT report, a survey was conducted to address the congestion issues in East Kidwai Nagar Redevelopment Colony, AIIMS, and nearby areas.
The main cause of traffic congestion in this section is the influx of vehicles traveling from INA towards AIIMS.
Additionally, the traffic from the Barapullah elevated road merges with the traffic on Aurobindo Marg, leading towards AIIMS, Safdarjung, Dhaula Kuan and IIT areas.
The survey revealed that the current hourly traffic volume in the area was 13,240 vehicles, which exceeds the permissible limit set by the Highway Capacity Manual (HCM) of 11,200 PCUs.
On a daily basis, 1,628 vehicles leave from the Kidwai Nagar colony.
To address the issue, a decision has been made to construct a U-turn underpass near Dilli Haat on Aurobindo Marg and a skywalk approximately 750 metres above the AIIMS flyover.
The skywalk will also provide connectivity to South Extension Market. The NBT report also illustrates the alignment of these proposals, which can be seen here.