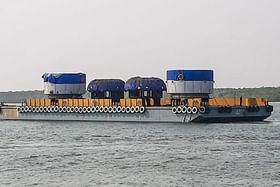 The Centre is working to ramp up the coal supplies through the inland waterways network.
As part of this, the Ministry of Ports, Shipping, and Waterways (MoPSW) plans to transport 41.06 million tonne (MT) of coal in the current fiscal.
The target for the ongoing fiscal (FY2023-24) is an increase of 17 per cent on the 35.19 MT moved in FY 2022-23, Union Minister of Shipping and Waterways Sarbananda Sonowal told businessline.
In India, coal is majorly transported through railways and roads. In 2019-20 close to 50 per cent of coal was transported through railways and 32 per cent by road, according to the Ministry of Coal.
However, over the past few years both these transport modes have come under huge pressure from companies and the public alike due to increased costs and pollution, respectively.
Thus, to bring down the consumption of diesel, pollution and cost of transportation, waterways are also being used for the movement of coal.
Based on data available with the Ministry, coal transportation thorugh the waterways have experienced a compounded annual growth rate of 16.71 per cent since 2019.
A total of 18.96 mt coal was transported through the inland waterways in FY 19, which increased to 21.75 MT in FY20, 24.06 MT in FY21, and to 30.61 MT in FY22.
"From 16 MT in 2014, the total cargo handled through the inland waterways network has now increased to over 130 MT in the last five years (cumulative). The majority of this is coal. By 2030, we are targeting to ramp-up cargo handling to 200 MT and also extend the inland waterways network," Sonowal said.