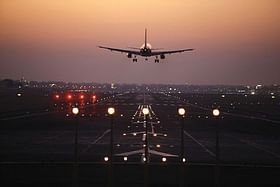 Fulfilling the long time demand, Directorate-General of Civil Aviation (DGCA) has approved the night landing facility at Kalaburagi Airport, Karnataka, a significant boost to the airports' overall functionality.
The Kalaburagi Airport was inaugurated on 22 November 2019, by the then Chief Minister of Karnataka B S Yediyurappa.
Till now only daylight flights were given permission. After the night landing permission, the airport can extend its operation during the evening time enhancing its operational capabilities.
With the night landing facility, the airport can accommodate flights after sunset enabling more airlines to operate in the region.
It has a runway of 3175 m x 45 m and an apron suitable to park three aircraft.
There has been a demand for providing night landing facilities to the airport for a long time.
With the approval by DGCA for the night landing facility the Aerodrome License for the airport has been amended from VFR (Visual flight rules) to IFR (Instrumental flight rules) for All Weather Operations.