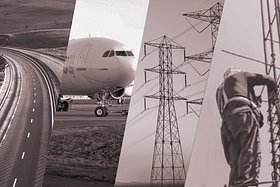 The list of recommended projects includes total 63 projects that comes under six ministries for its execution.
Network Planning Group (NPG) has recommended 63 infrastructure projects on the principles of PM Gati Shakti National Masterplan (NMP).
With this, the group has identified infrastructure development worth Rs 4.53 lakh crore which aims to boost urban connectivity, support manufacturing and logistics. These projects will now be taken under the process of the PM Gati Shakti NMP.
The move comes after the government announced Rs 10 lakh crore capex plan in the budget for the next fiscal year.
The identified projects by the NPG includes development of key multimodal projects spread across regions — with several expressways, road network, rapid rail, metro rail, railway projects and also petroleum pipelines.
These projects are expected to be expedited under the backing of the NPG, with faster approvals and implementation.
The details of the projects along with the locations and estimated costs can be explored through this link.
The list of the total 63 recommended projects comes under six ministries for its execution.
Of all, 23 projects come under the Ministry of Roads, Transport and Highways, with a cumulative cost of Rs 299,476 crore. This includes the Pune-Bengaluru Expressway being the most capital intensive at an estimated cost of Rs 49,241 crore.
The Ministry of Housing and Urban Affairs (MoHUA) has eight identified projects, including the 107 km stretch of Delhi-Gurgaon-SNB (Shahjahanpur-Neemrana-Behrod) Regional Rapid Transit System (RRTS) corridor — which is part of the Delhi-Alwar RRTS, with a capital of Rs 37,987 crore.
The other listed projects are under the Ministry of Railways, Ministry of Ports, Shipping and Waterways, Ministry of Petroleum and Natural Gas, and National Industrial Corridor Development Corporation.
The NPG consists of heads of the network planning wing of respective infrastructure ministries and will assist the Empowered Group of Secretaries (EGOS), which is headed by the cabinet secretary.
The group aims to guide all the departments and ministries responsible for creation of economic zones and connectivity infrastructure starting from the planning phase, and will play a crucial role in the required coordination between the ministries and departments.
To ensure better decision-making and coordination among various central ministries, departments and state governments, a three-tier institutional arrangement in the form of EGOS, NPG and technical support unit has been created, both at central and state levels.
The PM Gati Shakti NMP works on the guiding principles of minimising disruptions, ensuring quick completion of work with cost efficiency.
The masterplan also has a digital component in the form of a GIS platform which integrates the geospatial data related to the infrastructure in the country and planning portals of various ministries and departments.
The PM Gati Shakti NMP was launched in October 2021 with the objectives of holistically integrating the interventions of various ministries and departments, and addressing the gaps to ensure seamless movement of people, goods and services.