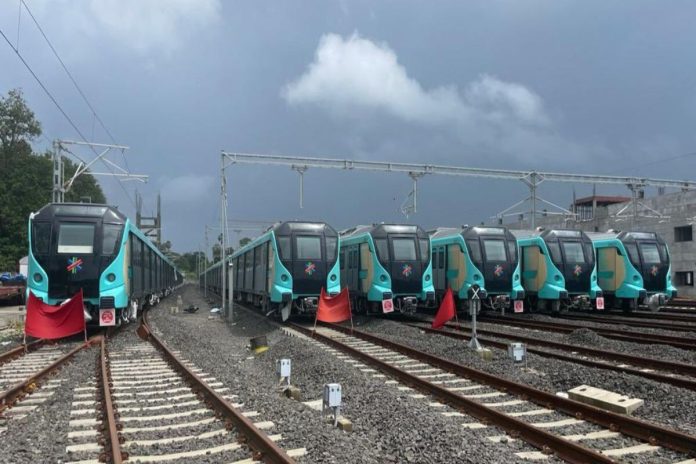 Announcing the ambitious plan to expand Mumbai's Metro services citywide by the year 2040, Ashwini Bhide, Managing Director of the Mumbai Metro Rail Corporation (MMRC), emphasised that the metro system would become the city's vital transportation network in the years to come.
Bhide provided a glimpse into the Mumbai's upcoming metro infrastructure while speaking at the "Loksatta Shaharbhan" programme.
The Mumbai Metro Line-3 project, being spearheaded by Bhide will begin functioning in next few months.
"Completing the work of Metro 3, which is an underground line, was a financial and technical challenge. We are in the last stage of Metro 3's Aarey to BKC phase and it will begin functioning in next few months," she said.
The second phase from BKC to Colaba will begin six to seven months after first phase, she added.
The 33.5-km long Line-3 corridor running along Colaba-Bandra-SEEPZ is the first underground metro corridor of Mumbai. It will connect Cuffe Parade business district in the extreme south of the city to SEEPZ in the north-central with 26 underground and one at-grade station.
Furthermore, Bhide mentioned that several more Metro lines will be initiated after the completion of Metro 3, and these lines will be interconnected. By 2040, the Metro network is expected to encompass the entire city, cementing its status as Mumbai's lifeline.
Bhide, who is also the additional municipal commissioner of Brihanmumbai Municipal Corporation, highlighted that the Mumbai Metropolitan region is witnessing a surge in infrastructure development, including projects such as the coastal road and tunnel road.
"The project will be inaugurated in phases between February and May 2024. It will clear the traffic jam and will help cover the distance between Nariman point and Worli in 10 minutes," she said.
The 10.58-km-long  Mumbai Coastal Road Project will connect Nariman Point in South Mumbai with the Bandra-Worli Sea Link at Worli through a series of arterial roads, underground tunnels and traffic interchanges.