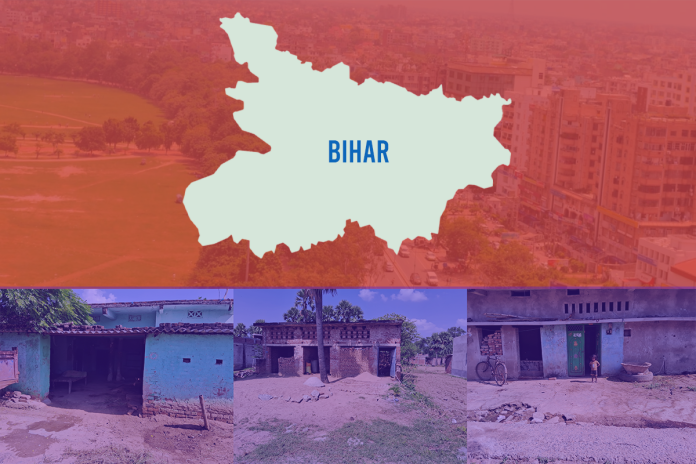 Krishna Kumar is a 25-year-old Bihar local who runs a digital services and printing store.
He lives in one of the newly notified urban settlements called Dobhi, a town in Gaya district situated just 35 km from the Buddhist pilgrimage site of Bodh Gaya.
In contrast to his surroundings, Krishna's shop offers digital services, tasks like printing and online form filling, which give the air of modernity.
He tells the author that he finished schooling up to Class 10 in Dobhi, moved to Gaya for further studies, and returned to set up shop.
This isn't a choice that many of his friends have made; they moved to big cities like Delhi and Mumbai.
Krishna, though, has chosen to stay back in Dobhi and make a living through his 'new age' shop, a previously uncommon sight in his area.
Does Bihar, with its new approach towards growth and urbanisation, open up enough avenues for people like Krishna?
The Need For Growth
Bihar's developmental challenges have frequently sparked discussions around economic growth, poverty, and regional disparities.
A major concern has been the slow pace of urbanisation in Bihar, which has hindered the state's progress.
To promote urban development, the Nitish Kumar-led government in Bihar introduced amendments in 2020, paving the way for establishment of over 100 new urban local bodies (ULBs).
One of these newly created urban settlements is Dobhi. Dobhi's importance can be weighed by its location at the crossroads of two major national highways (NHs).
The town lies along NH-19, the Delhi-Kolkata Road — one of India's busiest highways — and NH-22 (the Gaya-Dobhi Road in Bihar), connecting Bihar to Jharkhand.
This suitable location presents Dobhi with potential for growth. With 11 wards and a population of 14,427, the town now functions as a designated nagar panchayat (town council).
However, many of Dobhi's residents say the town still lags behind in fundamental civic amenities, economic prospects, educational resources, and healthcare services.
Dobhi and other new towns are now in the spotlight, having been notified for expanding 'urban governance' to more areas and populations in Bihar.
The visit to this recently designated urban area, Dobhi, aimed to explore how urbanisation is progressing there and, as an extension, in the state.
Bihar's New 'Urban' Areas
In the 2011 census, Bihar's urbanisation rate was found to be only 11.3 per cent, significantly lower than the national average of 31.2 per cent.
Despite comprising 8.6 per cent of India's total population, Bihar accounted for just 3.1 per cent of the country's urban population.
Moreover, high regional disparities are observed even in this low share — with places like Patna, and perhaps two others, being the only areas with more than 25 per cent urbanisation.
This low urban growth, coupled with high population growth, has led to Bihar recording the highest human out-migration among Indian states.
To drive urban growth in the state, the Bihar government in December 2020 approved amendments to the Bihar Municipal Act, proposed by the Urban Development Department (UDD).
By revising the "old criteria" for classifying semi-urban or rural areas as urban, Bihar aimed to enable more urban initiatives under the jurisdictions of nagar panchayat, nagar parishad (city council), and municipal corporations.
Previously, an area needed less than 25 per cent of its population engaged in agriculture to be deemed urban. Now, an area could be recognised as urban if less than 50 per cent of its population is engaged in agriculture and has other claims as an urban locality.
According to the Bihar Economic Survey 2022-23, with the government's decision to upgrade some rural areas to urban, 111 new nagar panchayats have been set up along with nine new nagar parishads. (Full list here.)
The projected urban population of Bihar in 2022 is now 20.2 million, up from 11.8 million, as per the 2011 census. This raises the urbanisation rate in Bihar from 11.3 per cent to 16.2 per cent.
The Urban Development Department has also a registered a growth in expenditure of 18 per cent.
A Day In A Notified Town
Swarajya was in Dobhi and had a chance to visit Krishna's shop.
The digital services he offers are valuable, considering the inevitable transition to the digital space and the need of his town folk for assistance in this regard.
"Being a rural body, most families in this region have traditionally been involved in farming. But now, younger generations are pursuing education in fields like engineering, technology, and medicine. While most prefer moving to bigger cities, only a few stay or settle in nearby areas," Krishna says.
"They have made this place from a gram panchayat to a nagar panchayat. There should be improvements in infrastructure, such as better roads, streetlights, and basic civic services that are common in towns, if we want to bring in greater economic development to the area," he adds, pointing at the unflattering condition of roads outside, with streetlights missing and drainage systems absent.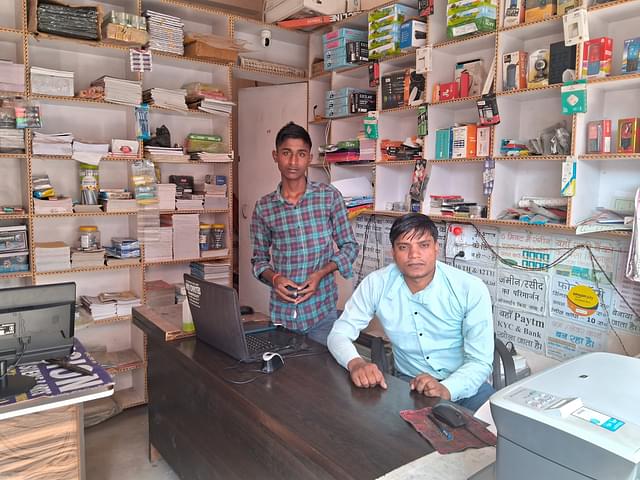 Krishna Kumar at his digital services shop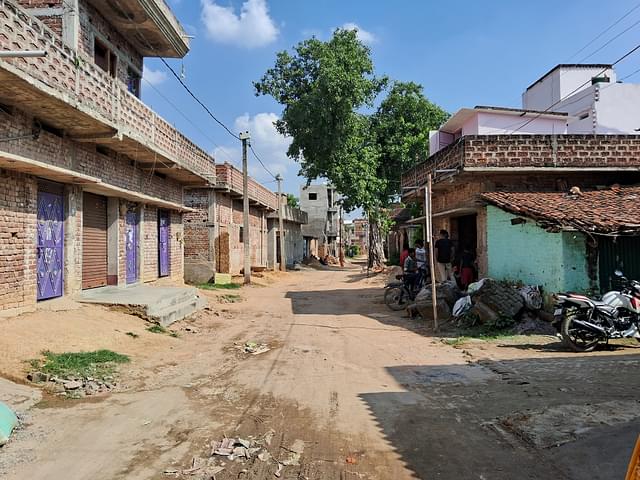 The condition of the road outside Krishna's shop
Many youths in the area are eager to learn. They are even interested in what he does. He, therefore, believes that the nagar panchayat should focus on bringing more services to the area, like banks, businesses, and organisations, so that more job opportunities open up.
"These are obvious institutions which we see in cities and even in smaller areas under urban governance. Our area is on the highway — it would be good for services and industries, also for new tech farming," says Krishna.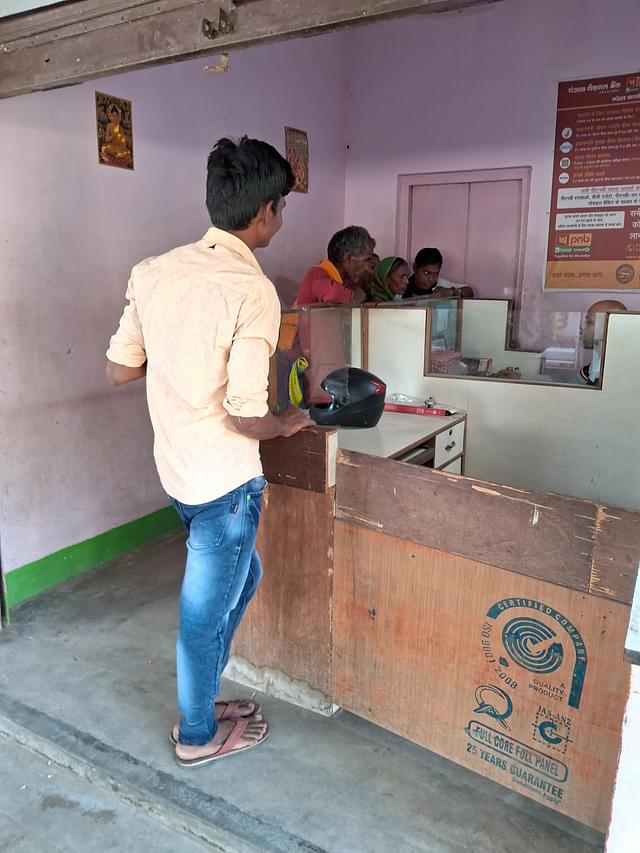 Further, the government should open up options for loans and support in line with the new urban status, departing from the earlier rural-scale approach that primarily focused on farming benefits.
This change will help people in Dobhi, who possess many skills but find limited opportunities locally, set up their own businesses and reduce the need to migrate.
Although little has changed in the last three years, Krishna remains hopeful that the administration will gradually develop systems to support the town's growth by making more services and facilities available.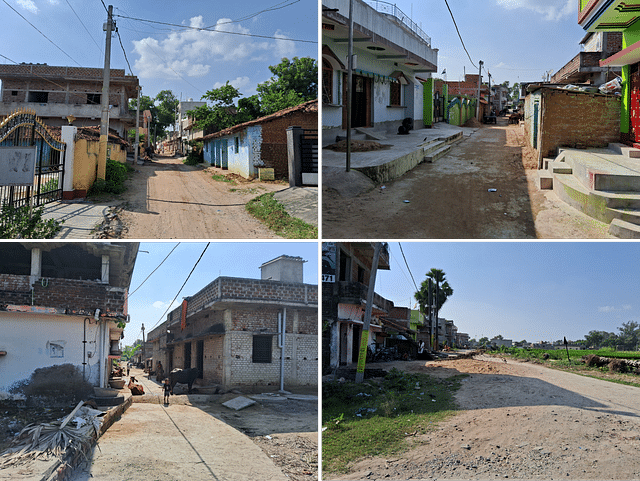 Some of the wards of the urban body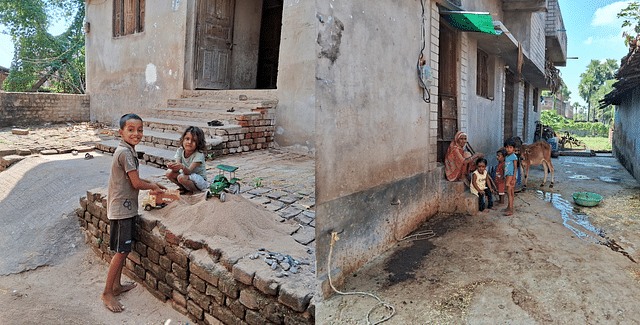 What The Locals Say
Many residents appeared to be well aware of the governance transition.
Sunil, a shop owner on the highway, says most people in the area who do not want to take up farming often seek opportunities in truck driving and support jobs.
With the highway nearby, locals like him have found employment in driving trucks, providing truck services, carrying out repairs, and running roadside shops serving refreshments.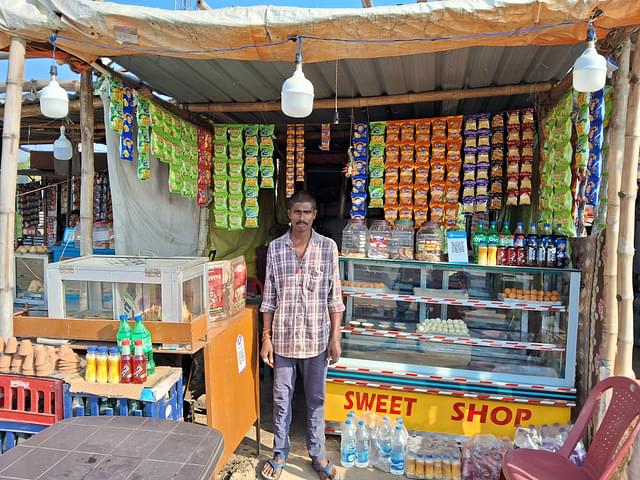 Sunil at his tea shop on the highway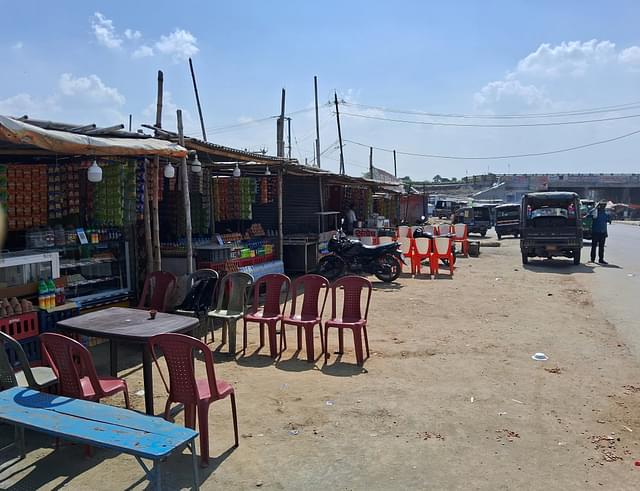 A series of shops run by Dobhi residents around the national highway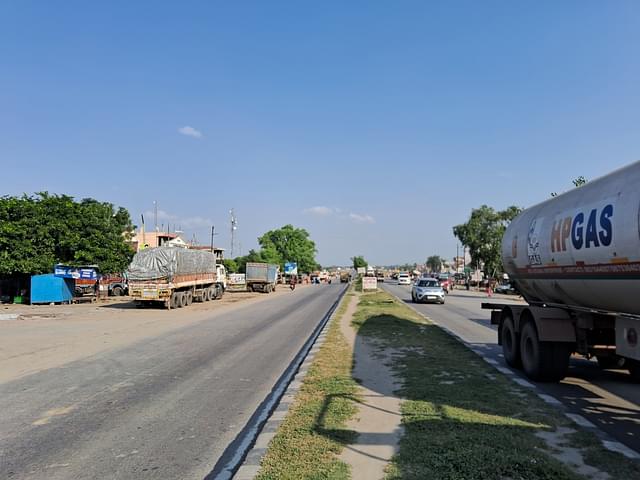 National Highway 19 passing through Dobhi
As for educational facilities, people directed Swarajya to a small hut to meet Anand Kumar.
In his small dwelling, locally built with a traditional roof, which looks like many other kuccha houses in the neighbourhood, Anand conducts tuition classes for school kids.
Anand is a graduate from Magadh University and is currently pursuing a specialised training course from a private college in Gaya. In addition to his studies, he chooses to teach the children in his neighbourhood.
Through the day, he teaches close to 45 students. He said that the children are very enthusiastic about learning. "Earlier, the only plan for most was to move out after completing their education in search of better opportunities elsewhere."
But with the recent changes, Anand expects more opportunities for growth to come to his region. He would prefer to stay in his hometown if such opportunities came by.
Have there been any visible changes so far?
Anand described to this writer how the nagar panchayat has started distributing dustbins and raising awareness about cleanliness.
"There have also been changes in electricity billing, land registrations, and some surveys to fix streetlights. Many people are complaining about the added expenses brought on by these changes, but these are things necessary for the development of the region," Anand says.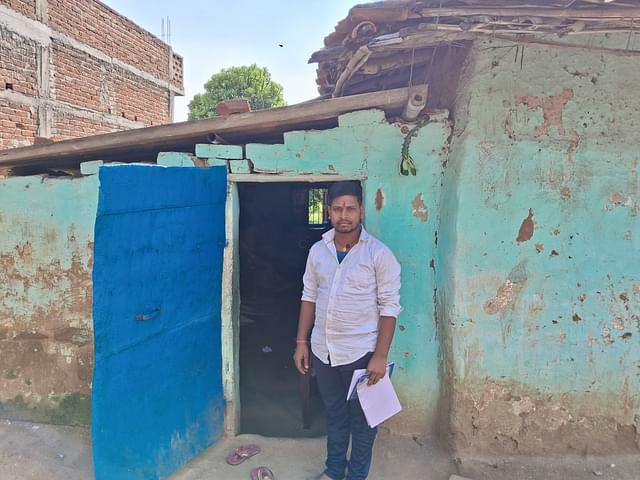 Anand Kumar at his tuition centre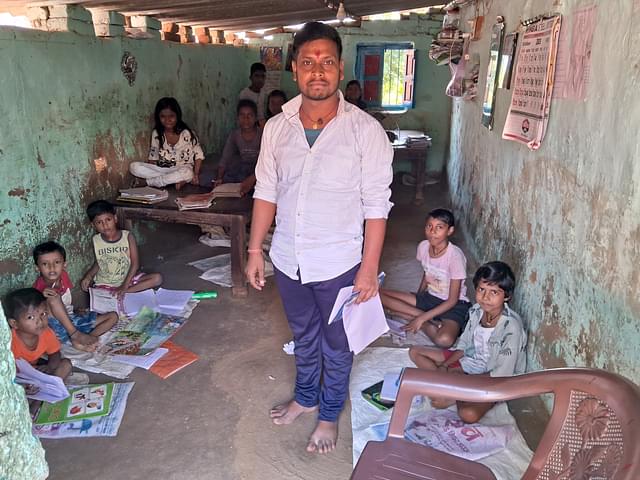 Looking around town, Dobhi still seems far from urbanised.
Sunil Kumar, a driver living in one of the lesser developed wards along with several others, thinks that the region has always been predominantly rural, yet has been designated as a nagar panchayat before bringing any development to the area.
Most people here are still into farming, and the area lacks the infrastructure typically associated with a town.
Many houses are still kaccha, access to water remains a problem, and there are no proper roads, streetlights, or drainage systems.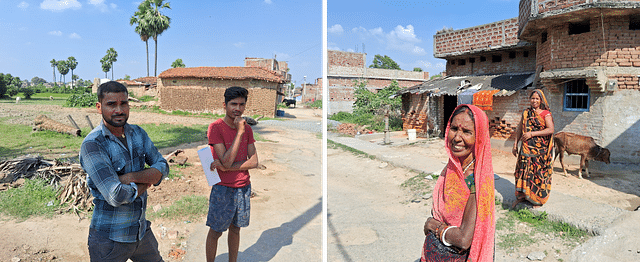 Residents of Dobhi, as they share their views with Swarajya

Housing conditions in the town.
The Nagar Panchayat's Take
Local officials have welcomed the notification for their town; however, they acknowledge that the area has had a history of underdevelopment, with a significant portion of the population still living below the poverty line.
For all the 11 wards, the officials say, efforts are underway to increase cleanliness, while the tendering process for streetlights on all roads and wards is in progress.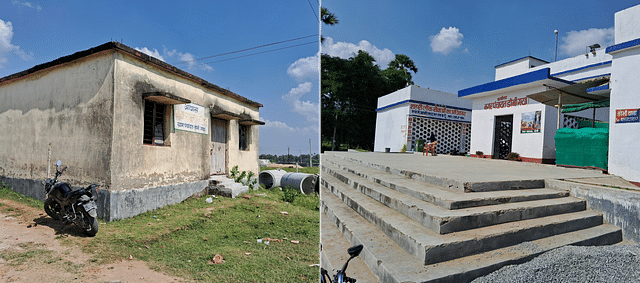 The older gram panchayat office and the new nagar panchayat office for Dobhi
The urban local body's chairman, Mathura Yadav, says they have initiated a survey for providing the necessary housing facilities under Pradhan Mantri Awas Yojana – Urban. They aim to maximise the number of beneficiaries as an urban body.
"Many families still reside in kaccha houses, and we are working towards initiating quality shelter facilities in our area. Further, our goal is to transform the region to reflect its urban status, including plans for hoardings and signages in each ward and roads," Yadav says.
On plans for economic growth in the area, they are exploring funding options, including market taxation to monetise properties and regularise long-standing encroachments.
However, these plans are pending government funding initiation, with an uncertain timeline.
While urbanisation is typically a consequence of economic growth, industrialisation, and infrastructure development, the Bihar government's 'urban' move feels more like an exercise in altering just the administrative pattern.
The state expects that the decision to create new urban bodies would lead to huge investments in infrastructure development and proliferation of business activities.
However, for the people of this town, who have not seen much actual upgrade to their quality of life, there is a need to reimagine the governance structure, since development plans seem unclear, spread out across an uncertain timeline.
Also Read IIH'S other reporting from Bihar: