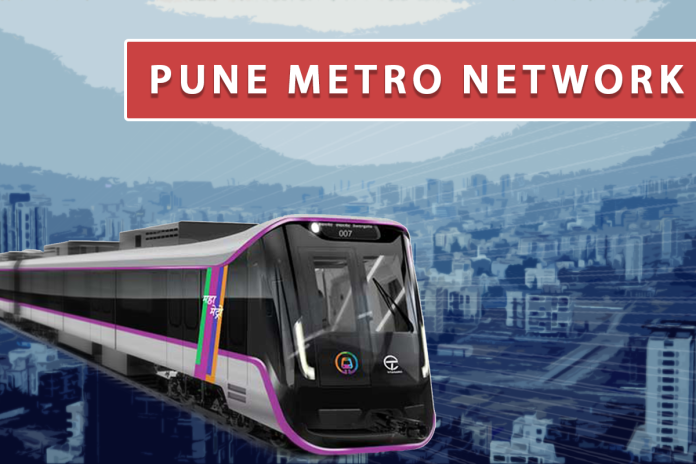 Once the Ruby Hall Clinic-Ramwadi is operational, the entire 15.7 km route on Aqua Line will be available for public use.
The Pune Metro has completed a successful trial run on the remaining stretch of the Aqua Line — from Ruby Hall Clinic to Ramwadi — speeding up the process of expanding its service.
The trial run, which lasted an hour, started at 7.30pm and included a round trip between the two stations, reports Indian Express.
During the trial run, all departments of Pune Metro collaborated seamlessly, ensuring the flawless execution of the test. The efficiency and safety of the tracks, electrical systems, signalling, and overall operational readiness were all assessed.
Shravan Hardikar, the managing director of Maha Metro, said, "We are delighted to announce the successful completion of the trial run from Bund Garden to Ramwadi Metro Station. Soon, the Metro train operation will be extended from Ruby Hall to Ramwadi."
Once this section is operational, the entire 15.7 km route will be available for public use.
Pune's Growing Metro Network
After the successful launch of two key stretches in August, Maha Metro is determined to complete the remaining work on two metro corridors by the end of this year.
Pune Metro Rail Project comprises of two corridors, namely the north-south corridor (Purple line) and the east-west corridor (Aqua line) — spanning a total length of 33 km with 30 stations.
The Aqua line starts from Vanaz Depot in east and goes upto Ramwadi and is fully elevated. The Ruby Hall-Ramwadi stretch will have key stations like Bund Garden, Yerawada, Kalyaninagar and Nagar Road.
Further, the 17.5-km-long purple line from PCMC to Swargate has 14 stations. The remaining stretch in this corridor — the Civil Court to Swargate section — is expected to be ready by December.
This section is completely underground with key stations in Kasba Peth, Mandai and Swargate.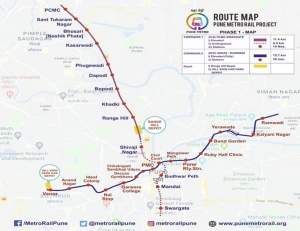 On completion, the two corridors will provide a seamless travel experience from Vanaz to Ramwadi and PCMC to Swargate — extending the Metro's total run to 33 km from the current 24 km.
Apart from the existing network, a Line-3 in the city is also undertaken by the Pune Metropolitan Region Development Authority and the Tata-Siemens partnership.
The 23 km, fully elevated network will connect the Hinjawadi IT park and several newly-developing areas and will serve a significant number of Pune employees for daily commute.