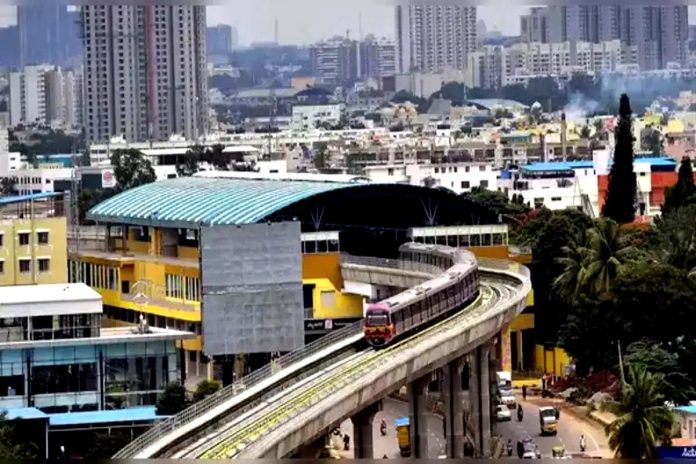 With the inauguration of these sections, the operational network of BMRCL has expanded from 69.66 km to 73.81 km, boasting a total of 66 metro stations.
The long-anticipated metro rail services on two segments of the Purple Line have finally commenced operations today (9 October), bringing significant relief to the citizens of Bengaluru.
These two newly-opened sections run from Baiyapanahalli to KR Puram and from Kengri to Challaghatta. Interestingly, these services began without a formal inauguration ceremony and were made available to the public as early as 5 am today (9 October).
In an official statement, the Bangalore Metro Rail Corporation Limited (BMRCL) informed the public about the commencement of passenger services on these sections.
The first segment covers a distance of 2.10 km between Krishnarajapura and Baiyappanahalli, with an intermediate station at Benniganahalli. The second segment, spanning 2.05 km, runs from Kengeri to Challaghatta.
These additions successfully complete the East-West corridor which now extends from Whitefield (Kadugodi) to Challaghatta, covering a total length of 43.49 km and featuring 37 metro stations.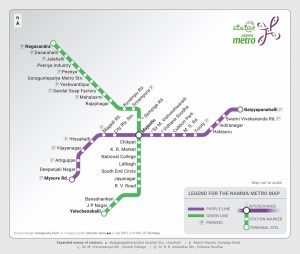 Namma Metro's Purple line and Green line route map.
With the inauguration of these sections, the operational network of BMRCL has expanded from 69.66 km to 73.81 km, boasting a total of 66 metro stations.
Furthermore, BMRCL has also shared operational details regarding the headway on the East-West Corridor, as per the Times Of India report.
During morning peak hours, the headway will be 10 minutes from Whitefield (Kadugodi) to Patandur Agrahara, 5 minutes from Patandur Agrahara to Mysore Road, and 3 minutes from Nadaprabhu Kempegowda Station – Majestic to MG Road. The headway from Mysore Road to Challaghatta will be 10 minutes.
Regarding the schedule, the last train departing from Whitefield (Kadugodi) will be at 10.45 pm, while from the other terminal stations, it will be at 11.05 pm, according to BMRCL.
The missing link between KR Pura and Byappanahalli has caused inconvenience for many passengers, especially tech professionals commuting to areas such as Mahadevapura, ITPB and Kadugodi.
Now office-goers will have the option to live in more affordable areas near Challaghatta and commute to their workplaces in Whitefield and surrounding areas.
The opening of the entire east-west corridor will drastically reduce travel time for passengers, making it a game-changer for the city's mobility landscape.
According to BMRCL MD Anjum Parwez, it will take approximately 1 hour and 40 minutes to travel between Challaghatta and Whitefield (Kadugodi), whereas covering the same distance by bus or cab usually takes more than two hours during peak time.
"At least 70,000 passengers per day will shift to Namma Metro when the Purple Line becomes fully operational. We believe that more people will choose Namma Metro as it provides a comfortable travel experience in the city," added Parwez.
The completion of the Byappanahalli-Whitefield Metro section, an extension of the Purple Line, was originally scheduled for December 2020 but experienced delays.
The 'missing link' was delayed due to the challenges in erecting an open web girder over the railway track near Benniganahalli Lake, which had to be executed in tandem with railway authorities. The erection work had to be carried out under the power block. During the power block, train movement was suspended temporarily.