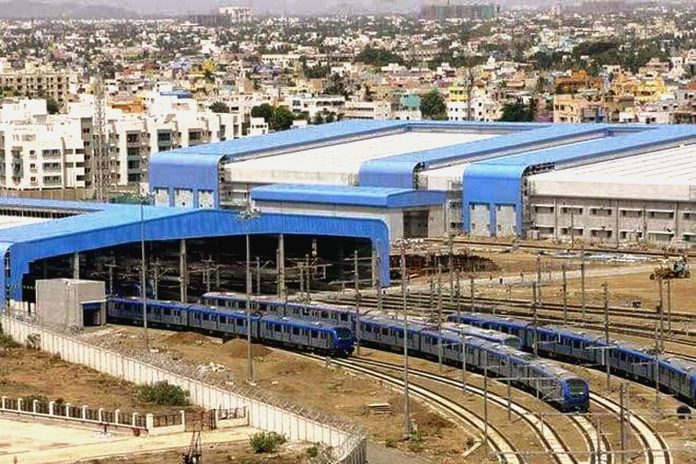 Chennai Metro Rail Limited (CMRL) initially planned to commence its phase II project with only three coach trains, covering three corridors that span a total of 116 kilometres.
However, they have now adapted their approach in response to a significant increase in passenger numbers observed in the Phase I and Phase I extension projects.
Initially, the plan was to exclusively operate three-coach trains, and they have already awarded contracts for this purpose, with others in the process of finalisation.
Given the surge in passenger numbers, CMRL officials are now preparing for potential high demand in phase II. To address this, they have devised a flexible solution: coupling two three-coach trains to create six-coach trains.
This adaptable approach allows CMRL to start with three-coach trains, which can be operated during non-peak hours. As demand increases, particularly during peak hours or with the launch of new lines, they can deploy coupled three-coach (six-coach) trains.
This strategy is consistent with practices observed in some international metro rail systems.
Chennai Metro Phase I
Phase I of the Chennai Metro Rail project consists of two corridors i.e. Corridor-I from Washermenpet to Airport, Corridor-2 from Chennai Central to St Thomas Mount.
About 55 per cent of the corridors in Phase I is underground and the remaining are elevated. Out of 32 stations 13 are elevated and the remaining 19 are underground. Inter-corridor interchange stations are available in Alandur (elevated) and Chennai Central (underground) respectively.
With a budget of Rs14,600 crore, the Phase I project work began more than 10 years ago. It was completed in stages, with the last portion from AG-DMS to Washermanpet opening to the public in 2019.
The number of passengers has increased from approximately 10,000 back then to more than 2.5 lakh today.
The current phase I and phase I extension projects, cover a distance of 54 kilometres in the city.
As per The Hindu report, commuters have expressed the need for more trains and improved frequency due to overcrowding during peak hours.
CMRL is now in the process of seeking funding for additional trains to enhance the 54-kilometre network, with the new trains anticipated to arrive approximately two years after receiving approval from the State government.
Phase II
Phase II comprises three corridors: Madhavaram to SIPCOT (corridor-3), Light House to Poonamallee (corridor-4), and Madhavaram to Sholinganallur (corridor-5).